As of Thursday, May 21, 2015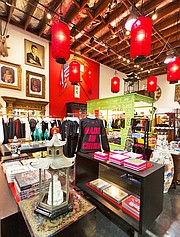 This summer, American Rag Cie is scheduled to open its first shop in China, and it will be stocked with many of the brands currently sold in American Rag's high-profile shops in Los Angeles and Newport Beach, Calif.
But Mark Werts, American Rag's founder and chief executive officer, thought that there needed to be a deeper fashion exchange between the two nations, which do billions of dollars in trade each year. On May 14, he opened a shop-in-shop of Chinese fashion designers at the Los Angeles location of American Rag. The designers range from streetwear labels from Hui by Eran Hui and Goods of Desire to the preppie looks of Taciturnli and the sophisticated contemporary styles of Amanda Shi, designed by Werts' Chinese-born wife.
Werts said that he made a gut-based decision—no marketing or focus groups—to make the Chinese shop-in-shop permanent in his La Brea store. His Chinese partners also said that the shop-in-shop will pay dividends over the Pacific. They told him that the Chinese designers' cachet would increase if their local fashion consumers knew that Americans also were buying the designers' styles.
While American Rag's Chinese shop-in-shop is decorated with a sense of pop-culture irony (for example, a serious-looking black-and-white portrait of Chinese basketball star Yao Ming overlooks the shop-in-shop), the American Rag in Shanghai will look very similar to the American Rag store in Los Angeles, including features such as Moroccan tiles and French trellises.
The 6,500-square-foot boutique will be located off of Nan Ying Xie Road, which is one of Shanghai's most fashionable streets. The shop is on the street level of a retail center that is the address to other Western brands and retailers. Werts and his Western partners are minority partners in the venture. Asian-based partners include Peter Caplowe and Richard Hobbs, who also own The Hub, a premium fashion show.
American Rag plans to build other flagships in major Chinese cities and Tier 2 and Tier 3 cities in that nation. American Rag opened a store in Bangkok in 2014, is scheduled to open a Jakarta store this spring and remodeled a store in Osaka, Japan, this year.