As of Thursday, May 28, 2015
Photo Gallery
CCA Annual Fashion Show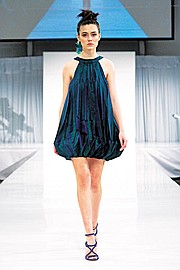 California College of the Arts | Annual Fashion Show | San Francisco | May 15 | Photos by Stevan Nordstrom
California College of the Arts hosted its annual fashion show on May 15 at CCA's San Francisco campus, where 13 senior design students showcased their final collections for a crowd of about 750 guests.
Among the runway looks was Sara A. Ahli's menswear collection, which was inspired by Venetian glasswork and the work of Italian architect Carlo Scarpa.
Contemporary American painter Cy Twombly inspired Nina Sturmfel's womenswear collection, which explored the "notion of handwriting as a metaphor for how artists learn to communicate."
Sirens, the beautiful women who lured sailors to their deaths in Greek mythology, were seen as "women emerging powerful and calm from the ocean" by Sophia Jain-Embry, whose weathered fringe and fish-scale prints were inspired by "a place that is both dangerous and serene." Jain-Embry also drew inspiration from Levi Strauss & Co.'s Eureka Innovation Lab during her recent internship with the San Francisco–based denim giant.
Stephanie Bergmann's cat-embellished childrenswear was designed for the "girl who loves to twirl."
Berg Chen explored the properties and shapes of objects to create the intricately folded pieces in his collection.
Hao Dong's collection was inspired by individualism, modern urban life and pop culture.
For her collection, Farah Q. Faizi imagined a "tangled story" of an artist working in a corporate office "who questions why."
Tim Ho combined fantasy armor with streetwear for his menswear collection, featuring graphic prints that invoke the names of heroes "past, present and future."
The relaxed freedom of the beach and surfing inspired Vanina Howan's collection, designed to be both timeless and recyclable.
Emily Hundley was inspired by "the optics and rigidity of a broken mirror" for her collection of tailored dresses.
Robert Adrian Morel explored the idea of the "transformative glamor" of drag "to reveal the true foundation of performance."
Tiana Rashaé was inspired by "growth and change" for her collection, which celebrates "today's emerging voice."
Jessica Tou designed a collection for the modern woman "who is unafraid to stand out in garments that serve as both armor and clothing, fashion and protection."