As of Thursday, May 28, 2015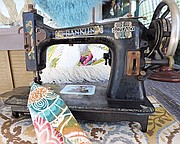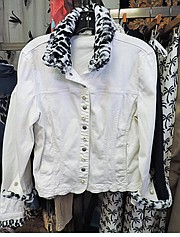 In a world where retailers are increasingly relying on multi-media screens and complex technology to make their stores stand out, Fernando Adames believes that a simple, mid-20th-century machine is all that is needed to give a boutique an added edge.
The machine is a more-than-40-year-old Juki Industrial sewing machine, said Fernando, who prefers to go only by his first name. If you walk into the boutique Fernando's in the Riviera Village shopping district in Redondo Beach, Calif., located a few blocks away from the Pacific Ocean, you might see him sitting behind the sewing machine. He creates custom-made clothing and accessories for the people of Redondo Beach and beyond. The Fernando's boutique has been in business for 35 years.
"No one has a store with a sewing machine on the premises anymore," said Fernando, who grew up in Bogotá, Colombia. While designers use boutiques as ateliers to make red-carpet and special looks for patrons, Fernando said that his sewing machine is reserved for giving simple clothes some extra panache. He uses his sewing machine to put appliqués on jackets and make accessories such as belts, bracelets, scarves and homewares such as blankets and pillows.
Fernando finds some of his appliqués and exotic fabrics at the LA Textile Show, and other one-of-a-kind vintage fabrics are found around the world. Retail price points range from $100 to $200 for a repurposed jacket, $50 to $100 for belts and $30 to $75 for bracelets.
Fernando and his wife, Renessa, opened the first Fernando's shop in 1980 in Hermosa Beach, Calif. He sold men's and women's clothing, and the boutique served as a neighborhood fashion store. In the late 1990s, he developed an interest in the Juki sewing machine at his shop. He taught himself how to sew.
Word spread on his abilities. In Hermosa Beach, he made costumes for people attending Burning Man, the festival in the Nevada desert that places an emphasis on science-fiction and fantasy costumes. Fernando's moved a few miles south to Redondo Beach in 2012 after his boutique's building was sold.
Redondo Beach's clientele is more settled than Hermosa Beach, and they are typically more keen on homewares than Burning Man costumes. But Fernando also sees a more varied demographic there. Tourists staying at the Terranea Resort in Rancho Palos Verdes often drop by Riviera Village, and they pick up something crafted on Fernando's machine, he said. "If it's something that they can't find, we try to find it," he said.