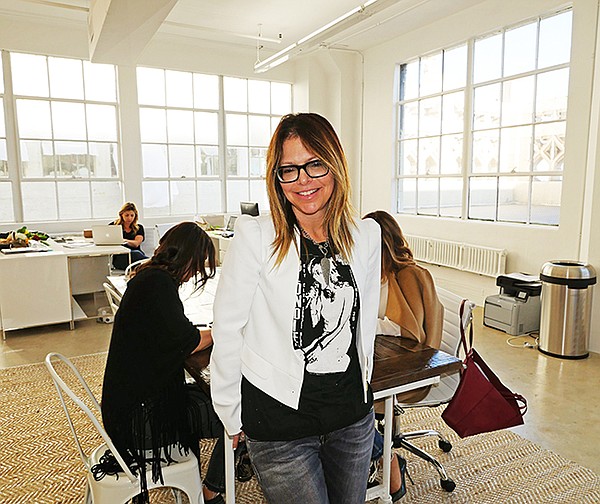 ELYSE WALKER IN DTLA
Westside Doyenne To Gritty Los Angeles St.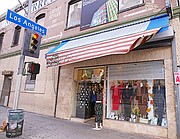 Elyse Walker is best known for running an influential, self-named boutique in Los Angeles' exclusive Pacific Palisades neighborhood, but she is making news in downtown Los Angeles, which is a long freeway trip away from the Palisades. Walker recently opened a new design office and showroom for the fashion lines she designs in the rapidly changing district of downtown.
The impact of the showroom opening is more than the story of Walker overturning conventional wisdom about Los Angeles—that people from the city's Westside never come to the metropolis's downtown or the Eastside. Her move could help change Los Angeles Street, where her new offices are located.
For decades, Los Angeles Street was best known as a gritty place to buy discount men's suits. Walker is part of a vanguard of showroom owners who are moving onto Los Angeles Street. For the past five years, the city's Fashion District showroom owners and retailers have been trying to take contemporary and high-end projects onto Los Angeles Street. They have reported mixed results, first because of the gritty milieu of the street, which, some denizens of the street jokingly say, scares Westsiders away.
Another issue is Los Angeles Street also happens to be a short walk from the main strip of Los Angeles' Fashion District—Ninth Street between Main and Los Angeles streets. Many worry that buyers won't want to make the short trek from the main strip of the Fashion District onto the street, despite colorful street-level showrooms that have been opening on the thoroughfare.
Walker moved operations for her fashion lines THEPERFEXT and elysewalker Los Angeles into the 12th floor of the Mercantile Exchange Building at 719 S. Los Angeles St. She and design partner Sable Banoun, who works with her on THEPERFEXT, which is sold at Saks Fifth Avenue and Bergdorf Goodman, were looking for a place where they could design in a space separate from the Elyse Walker shop. Walker must schedule a lot of her time to be on the shop floor in the Palisades boutique.
The showroom also serves as the site for showroom meetings with major retailers. Walker saw distinct advantages to being located a few blocks off of the main Fashion District streets.
Walker said that one of her sales executives joked that they would have to arrange Uber taxis to bring buyers to their showroom, a five-minute walk up Los Angeles Street.
But she believes that the buyers who make the extra effort to visit her showroom will be willing to invest more into her lines. Those who are willing to walk a few blocks off of the main Fashion District strip will be the retailers who buy the entire collection of THEPERFEXT, not just a few pieces of the contemporary women's collection. "We might lose walk-up traffic," Walker said of the showroom division of her 2,100-square-foot space.
Chris Josol recently opened a 2,600-square-foot showroom for Flagship Agency at 721 S. Los Angeles St. It is closer to the Fashion District's main drag than the former address of Flagship's main showroom in Los Angeles' Chinatown. But Josol and Adam Ahdoot, Flagship's administrative partner, are mindful that it is still off of the Fashion District's main strip. They will have to make an extra effort to bring buyers to their new showroom. It is adjacent to the Mercantile Exchange Building, where Walker set up shop.
"We're trying to make a destination," Josol said. "We're going to do big fashion and marketing events."
Josol was encouraged to take a gamble on the street because more Fashion District–style businesses are moving up the street. Blends, a high-end sneaker boutique, opened at 725 S. Los Angeles St. during Valentine's Day weekend in 2014. The showroom Money Ruins Everything opened a space at 713 S. Los Angeles St. in the past year. Also in the past year, the Ron Tomson Los Angeles brand opened a boutique and showroom for its men's brand at 840 S. Los Angeles St.
Independent designer Henry Duarte opened a showroom and events space, Drop City, at 715 S. Los Angeles St. in early 2014. He and designer Beth Orduña originally envisioned the address as a work studio. Duarte's plans for the space changed when a retailer suggested that Drop City be used to showcase independent designers as well. Fast forward 18 months or so, and several designers—including Calleen Cordero, Peter Cohen and Elaine Kim as well as Duarte and Orduña—frequently show their lines at Drop City. Designers renting space at Drop City are responsible for bringing retailers to the showroom. It continues to act as something of an alternative space. It's also open late. Buyers make the trip up there after many showrooms close for the night, Duarte said. "They come willingly, but they come at the end of the day," he said.
Los Angeles Street has a checkered history. A number of showrooms have tried their luck on the street and called it quits.
In 2013, the T & A Showroom closed its operations at the 824 S. Los Angeles St. building and relocated to the California Market Center showroom building at the center of the Fashion District's main strip, said Timothy J. Padilla, the showroom's co-owner.
Padilla and his business partner, Alfred Davis, ran the T & A showroom on Los Angeles Street for six years. They operated on two floors of the 824 S. Los Angeles St. building. They were able to produce big parties, where seemingly hundreds of people danced to DJs spinning records in the sprawling showrooms. The events were good for spreading the word on a growing business. But despite the building's close proximity—it is located just a few doors away from the Cooper Design Space—Padilla said that buyers weren't interested in going north of Ninth Street.
"We got 10 percent of our business from 'luck-of-the-draw' foot traffic," Padilla said. He and Davis resolved to move to the CMC.
"We would pound phones like crazy," he said of his former address. "We would have to work harder than showrooms in one of the main buildings." Showroom workers need every advantage they can get, he said. "Even at trade shows, leading a buyer from one aisle to another—just one row away—can be challenging. It can be like pulling teeth."
Eric Martin of The Park Showroom moved the men's division of his wholesale operation from the Lady Liberty Building to the CMC earlier this year. He also shuttered his contemporary men's boutique Seven Points from the Lady Liberty at the same time. However, The Park's women's division will remain at the Lady Liberty, which is home to other womenswear showrooms. The Park space also will introduce a new service. It will rent out creative offices with a focus on fashion-industry people. Martin believes that Los Angeles Street has a long way to meet its potential.
"We thought we were on time," he said of his retail and showroom efforts on the street. "We were way too early."
He doesn't believe that the street will change much until the thoroughfare and downtown Los Angeles shed their last vestiges of being a gritty, urban enclave.
"Until they make downtown Los Angeles a more pleasant experience, it will never be a great downtown," he said.
The tough look of the street is partially responsible for The Park's move and the closure of the Seven Points men's boutique.
High-end boutiques have moved on and off the street. A boutique for the MartinMartin collection shuttered in the past 12 months. The sneakerhead shop Blends moved into a space that once housed The Cooper Store, a boutique run by the management of the Cooper Design Space showroom building.
Los Angeles Street's issues could be solved with the right real-estate moves, said Julio Martinez Jr., manager for Blends. "It needs more businesses," he said of the street. "It has a lot of potential; we need more people to come down here," he said.