As of Thursday, November 12, 2015
Photo Gallery
Global Denim Awards 2015 Runway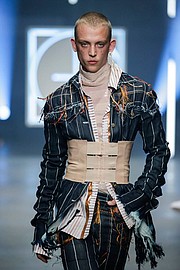 Global Denim Awards | Westergasfabriek | Amsterdam | 2015
AMSTERDAM—Innovation in fabric and design was on the runway at the second annual Global Denim Awards, a fashion competition organized by HTNK Fashion recruitment and consultancy, the House of Denim, and Kingpins and sponsored by e3.
Held in Amsterdam's Westergasfabriek a 19th-century former gas works, the runway show drew a standing-room-only crowd of denim designers, mill representatives and fashion followers.
A panel of judges included denim pioneer Adriano Goldschmied, G-Star designer Pierre Morisset, denim trend forecaster and author Amy Levinson, and Menno van Meurs, co-owner of the fashion boutiques Tenue de Nimes.
Eight designers worked with fabrics from eight fabric mills, Candiani Denim, ITV Denim, Calik Denim, Tejidos Royo, Prosperity Denim, Atlantic Mills, Berto Industria Tessile and Advance Denim.
Designer Sartoria Diletto's tailored fashions, featuring Italy-based Candiani Denim, took the top prize. Diletto received a €10,000 ($10,867) prize. His designs will be featured at Kingpins shows in Amsterdam, New York and Hong Kong. Italian mill Berto Industria Tessile, whose fabric was featured in the Studiopretzel collection, received an award for most innovative fabric.