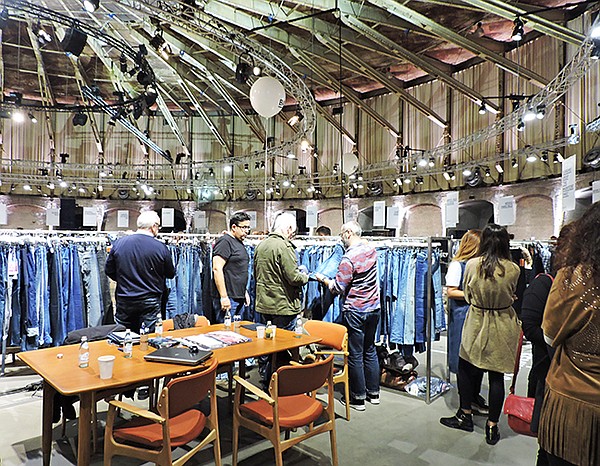 DENIM IN AMSTERDAM
Kingpins Amsterdam Encompasses the Denim Industry From Fiber and Fabric to Design Development and Finishing
AMSTERDAM—Now in its second year in Amsterdam, Kingpins organizers have determined a few keys to success in running the boutique denim-sourcing trade show.
The first is the location, the Westergasfabriek, a late-19th-century gas factory. The trade show is held in the venue's circular "Gashouder" space, which creates a dramatic setting, but more importantly, said Kingpins founder Andrew Olah, it creates an even playing field for the exhibitors.
"With the round room, there is nothing in the corners," Olah said, adding, "Everyone has the same [size] booth."
As a result, Olah said, the focus is on the product on display—everything from fiber and fabric to garment manufacturing, trim and packaging resources and all tailored for the denim industry.
"People come to work the show; they visit a lot of booths and they ask a lot of questions," Olah said. "There's a lot we've learned here. This is our flagship."
The recent Amsterdam show, held Oct. 28–29, fell immediately before Kingpins' New York show, where many exhibitors from the Amsterdam show were also planning to exhibit.
While the Amsterdam show predominantly draws European brands, there were a handful of U.S. and international brands in attendance, including Ralph Lauren, Timberland, All Saints and Superdry.
Adriana Galijasevic, who works in styling and design for Dutch denim brand G-Star Raw, said the recent Amsterdam show was "as always, great."
Galijasevic spent both days at the show meeting with G-Star's existing mills and looking for new sources of inspiration.
"We come with open eyes and ears—it's always inspirational," she said.
But there's another draw for Galijasevic and her denim-industry colleagues.
"You see most of the people from our industry from all parts of the world coming to get inspired," she said. "Everybody knows each other. We are here for the love of denim. It's the binding glue. It's the coming together of all walks of life— the designers, the mills, the students."
Inspiration at the heart
At the center of Kingpin's circular exhibition space was a workshop area for Jean School, Amsterdam's three-year vocational training program for denim design and development. Throughout the two-day trade show, students worked on their designs on the show floor. There was also an exhibition area for a recent collaboration between the Jean School students and Crailar flax.
The center of the hall also featured an indigo-dye demonstration by Spanish dye house Tintes Egara, which also showcased laser finishing using a tabletop Iberlaser machine. There were also vintage denim garments on display in The Vintage Showroom and a booth highlighting the "Denim India Made" project between denim mill Arvind and Indian artisans.
Denim city
Among the returning exhibitors at Kingpins Amsterdam was Greensboro, S.C.–based Cone Denim.
"There's a nice clientele in Europe; we get to meet them at this show," said Kara Nicholas, Cone's vice president of product development and marketing. "Amsterdam is an inspiring city as well. We call it a denim city. There are so many brands based here."
Cone is continuing to highlight its performance denim products, which include ConeGard, a durable and water-repellant denim. The company also has moisture-management denim made with fibers such as Sorbtek, Dri-Release and Coolmax. The mill'sConeStrong collection is made with high-strength fibers such as Dyneema and Toughmax. There are also denim products made with recycled Reprieve fibers.
"We want to take a stance on performance denim," Nicholas said. "We don't see it as a trend; we see it as a natural evolution of denim."
The mill is also continuing to offer a wide range of stretch-denim products, Nicholas said. The challenge is to make sure the end product always looks and feels like a traditional denim.
"When you take performance characteristics and move them into denim, you still want it to look like denim," she said. "There's a lot of dials to tweak to maintain that."
Walnut Creek, Calif.–based Nexgen Packaging was another returning exhibitor at Kingpins Amsterdam.
"When we come to this show, the customers are very serious," said Kent Pellegrini, a company partner. "They come early and they have an agenda."
Debbie Bougas, Nexgen's creative director, agreed, adding, "They really try to understand what each vendor has to offer."
Among Nexgen's offerings are tags with RFID (radio-frequency identification) as well as sustainable solutions in labeling and packaging.
"Our customers want a solution to be sustainable, but it still has to be at a competitive price," Pellegrini said. "Both sides have to come together from operations to creative—the left brain and the right brain—especially on RFID."
Another key issue for Nexgen customers is omni-channel and addressing the challenges of having a seamless inventory strategy in place.
"The care label is the passport for garments moving around the world," Pellegrini said.
For Bougas, that brings another challenge: "I have to make it pretty," she said.
Turkish mill Calik Denim was another returning exhibitor at Kingpins Amsterdam.
"Amsterdam is getting to be a European hub of denim," said Ebru Ozaydin, Calik's sales and marketing director. Ozaydin primarily met with European brands at the show but said a few U.S. brands, including Levi Strauss & Co., attended as well.
One of the new developments Calik was highlighting was a technology called Elastech, which eliminates puckering along the waistband and back pockets in garments made from high-stretch denim. Elastech also "stabilizes" shrinkage across different washes," said Hakan Anuk, Calik's U.S. representative, who is based in Los Angeles.
"You can use the same pattern for different washes," he said.
New to the show
There were also several new exhibitors at the show, including São Paulo–based denim mill Canatiba.
Ninety percent of Canatiba's customers are based in Brazil, with the rest split between other South American countries, the United States and Europe, said Fábio Augusto Covolan, whose father and uncles founded the company nearly 50 years ago.
Of its U.S. customers, most are based in California, where Canatiba has a sales office.
"We have always positioned ourselves as premium denim," Covolan said. "Our factories are state of the art."
Canatiba produces 10 million meters per month, Covolan said.
"From weaving to finishing fabrics, we're fully vertical," he said.
Another new exhibitor was Milan, Italy–based luxury fabric mill Carlo Bonomi.
"Indigo is only a part of our collection," said company representative Fabio Pariani.
Pariani said he primarily met with existing Dutch accounts at the Kingpins show, but he was on the lookout for potential new customers.
"Always this is the target," he said.
Fiber minded
Among the fiber makers showing at Kingpins was Lenzing, the Austrian company that produces Tencel and Lenzing Modal.
Tricia Carey, Lenzing's director of business development for denim, said her company's products were well represented at Kingpins Amsterdam.
"Eighty-eight percent of the mills here offer denim with Tencel or Modal," she said. "It's no longer one fabric or two. It's full collections in Tencel."
Invista, maker of Lycra, was another returning exhibitor. (Lycra and e3, Bayer CropScience's sustainable cotton initiative, were sponsors of the trade show.)
This season, Invista hosted a panel discussion at Kingpins Amsterdam highlighting knit denim. The panel included Eva Shih, U.S. agent from Knitdigo; Enrico Forin from Advance Denim; and designer Adriano Goldschmied, who is currently launching a new knit denim collection called Acynetic (see related story, this issue).
"Today is a very good day for Invista," Goldschmied said. "If you think about where we are today in denim, they own the present and they own the future."
Goldschmied said stretch denim has been an important part of denim collections since it first was introduced in the early 2000s.
"In the year 2000, originally it was in Los Angeles. We came out with the idea of making jeans comfortable and sexy and desirable to wear," he said. "The big change today in denim is going in a different direction: Indigo yarns on a circular machine. The next future is about knit denim [with the] look of denim but the performance of sport fabric."
Another Kingpins Amsterdam exhibitor, Unitin, has been spinning denim yarns for circular knits for years. The Barcelona, Spain–based company's yarns are sold around the world, said Xavi Subirates, Unitin's indigo product manager.
The company also produces knit fabrics, including jersey and fleece, made from its yarns.
Subirates praised the turnout at Kingpins Amsterdam.
"The top brands of the market are coming here," he said.