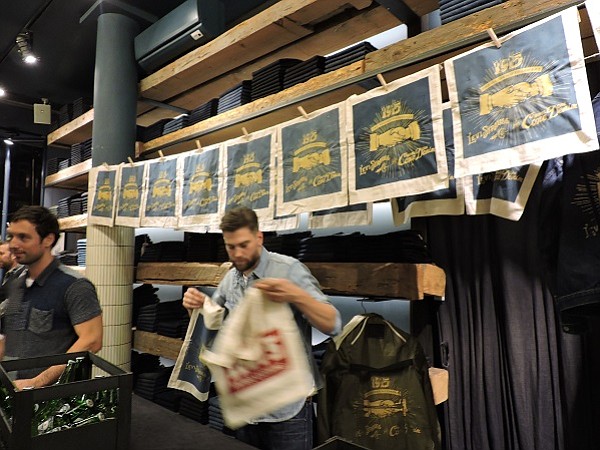 100-YEAR-OLD DENIM DEAL
Party Like It's 1915
AMSTERDAM—The hundredth anniversary of a gentleman's agreement between two denim giants? Sounds like a good reason for a party to me.
I was recently in Amsterdam for the Kingpins denim sourcing trade show and I got a chance to attend a party at one of the Tenue de Nimes boutiques to celebrate the "Golden Handshake," the 1915 agreement between Levi Strauss & Co. and Cone Denim when Levi's agreed to give Cone Denim exclusive right to produce denim for Levi's 501 shrink-to-fit jeans.
To celebrate the centennial, Levi's introduced a capsule collection inspired by the event with styles pulled right from the Levi's archives, including two vintage-style jeans and two versions of the 1915 Sack Coat.
Known for their deep denim knowledge, Tenue de Nimes owners Menno van Meurs and Rene Strolenberg have three boutiques in Amsterdam featuring an assortment of denim (and denim-friendly) brands, as well as vintage pieces and an archive of vintage-denim memorabilia.
The party drew a packed crowd of denim fans, who sipped champagne and Heineken beer while browsing the store's offerings.
Even the food was served vintage-style courtesy of the Stacks food truck, which was offering pulled-pork sandwiches and lobster burgers prepared and served from a 1950s-era truck. (Apparently Stacks also serves its food from a vintage motorcycle equipped with a sidecar smoker, which would have been a sight to see.)