As of Monday, November 9, 2015
COS is not a well-known retail commodity in the United States, yet. But that may change.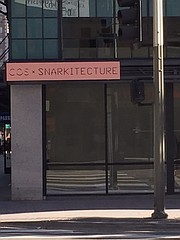 The London-based collection of stylish yet slightly edgy designer duds that sell for around $100 and above has only two stores in the United States - one in Beverly Hills and the other in Manhattan.
But last Friday, Nov. 6, the burgeoning brand opened a sleek pop-up store at 912 S. Hill St., a block away from Acne Studios and the Ace Hotel, in a corner spot normally occupied by the everything-Scandanavian Austere showroom.
The pop-up is truly a pop-up, only around until this Sunday, Nov. 15, when it will close. If you get a chance, check it out not only the cool men's and women's clothes that sell for prices much higher than at its H&M parent, but for the architectural touch added by Snarkitecture, a design firm out of Brooklyn, N.Y., which creates installations that blend art and architecture.
This is the second collaboration between COS and Snarkitecture. Last year, the two put together a pop-up store inside Opening Ceremony on La Cienega Boulevard in Los Angeles.
The COS pop-up spot is testing the consumer waters to see what kind of reaction the clothes get from people shopping in the downtown area. COS, which stands for Collection of Style, was launched in 2007 and is starting to open more stores in the United States.