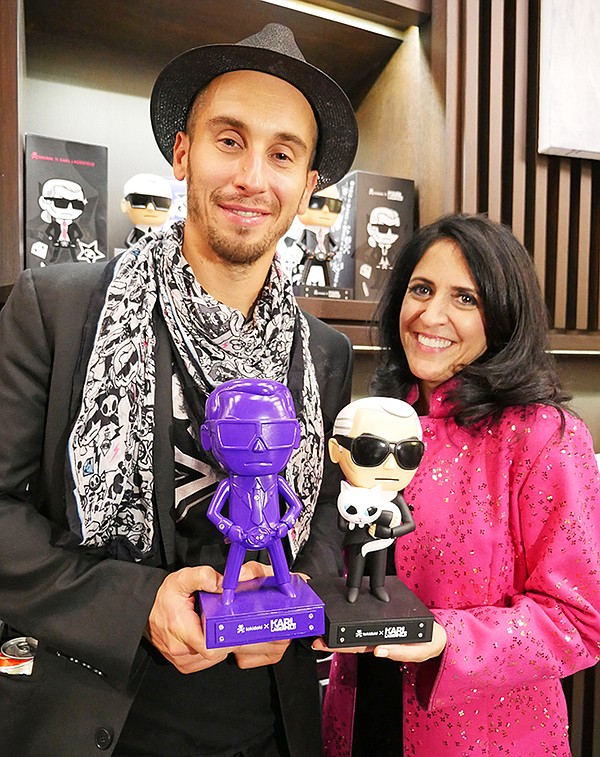 CARTOON COLLABORATION
At 10, Tokidoki Finds Business in Collaboration
There's Mickey Mouse, Bugs Bunny, Hello Kitty and a world of superheroes competing for spaces in our imaginations and on our T-shirts. Los Angeles–based brand Tokidoki recently celebrated its 10th anniversary of carving its own niche in this animated crowd, and the small, private company is looking to grow through a wide arena of collaboration and retail.
Markets as diverse as gambling and baby products have been all fair game for Tokidoki, which started in 2005 selling products such as graphic T-shirts bearing the characters of Italian-born artist Simone Legno. Pooneh Mohajer, a cofounder and chief executive officer of the brand, said they have to run faster than Looney Tunes' Road Runner character to keep growing.
"We want to be everywhere. We want to be in multiple tiers of distribution with compelling, interesting product, anything from fashion to accessories to entertainment," Mohajer said. "But the retail landscape has gone through massive changes, and we have to be reactive and fluid."
Legno started the Tokidoki universe with sketches depicting the adventures of a pint-sized grim reaper named Adios and his ghoulish friends. They appealed to a demographic of teenagers and beyond who embraced the absurdity and Japanese pop-culture style of the characters.
Recently, Legno created other worlds of characters for other demographics. The company's Neon Star features some of the brand's softer characters. They appeal to a younger girl. Tokidoki started an accessories and clothing line featuring the less edgy characters in 2014. They are sold to a grade school and tween crowd at Claire's, a retailer of beauty and accessories products for girls.
Much of Tokidoki's growth has come from collaborations. Tokidoki characters have graced slot machines at Las Vegas casino The Palazzo this year. Baby car seat maker Clek has sold baby car seats with covers bearing Tokidoki characters.
Legno designed vinyl statuettes of Chanel designer Karl Lagerfeld in a Tokidoki style. Tokidoki has worked with Major League Baseball for accessories such as iPad covers for teams including the Los Angeles Dodgers, New York Yankees and San Francisco Giants. Other partners include accessories brand LeSportsac, Ju Ju Be, Barbie and Asics's Onitsuka Tiger brand. Mohajer declined to state the company's revenues.
While the world of tweens has seemingly nothing in common with gambling, Mohajer said possibilities are endless for collaboration with other businesses.
"All of our collaborations allow us to reach a new fan base, and we cherish the opportunities for our characters to expand to new communities, from boxers to moms to comic-book enthusiasts," she said. It's also about diversification, said Emily Brough, Tokidoki's director of business development. "We're not just a one-note brand; there are more categories that we can come up with season after season."
Tokidoki began business with apparel, and its activity in the clothing business fluctuates from season to season. Clothing makes up more than 30 percent of its products during any given season.
Social media makes stars of new characters with great frequency. It's never been easier to introduce new characters onto the market, said Jessica Blue, vice president of the Licensing Expo. The Advanstar-owned trade show runs annually in Las Vegas. At its most recent show, more than 150 new brands sought to introduce new characters, Blue said. Characters make up more than 40 percent of the more than $200 billion market for licensing.
While the market is growing, it is not an easy game in which to be successful. Ilse Metchek, president of the California Fashion Association trade group, said a licensor's value is only as good as its last product. Brands such as Ed Hardy can make a splash, then largely disappear after flooding the market with everything from swimsuits and footwear to energy drinks and car air fresheners.
Tokidoki, a privately held company, remains small. It employs 27 people and runs a 75,000-square-foot office and design complex and a 10,000-square-foot distribution center in Los Angeles.
It has a flagship boutique near the intersection of Melrose and Fairfax avenues in Los Angeles. In 2011, it closed a second boutique in Santa Monica, Calif. The company plans to grow U.S. sales through its e-commerce site (http://tokidoki.it). It also plans to open physical boutiques overseas in the future.