As of Thursday, November 12, 2015
Photo Gallery
Wolk Morais Shows Collection 2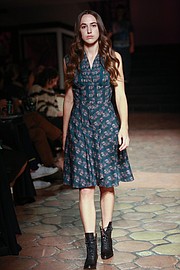 Wolk Morais Collection 2 Runway Show | West Hollwood, CA | Nov. 9 2015
Evening gowns with denim, floral jacquard bra tops, mesh neoprene. These were a few looks from the Wolk Morais label's Collection 2. A runway show for the brand took place on Nov. 9 in West Hollywood, Calif.
The made-in-Los Angeles line from CFDA (Council of Fashion Designers of America)–winning designers Brian Wolk and Claude Morais took a bow earlier this year. Some of the debut looks featured dresses mixing fabrics such as neoprene and silk. The line also sought to provoke. There was a dress featuring the jarring, multicolored bar logo of the now-defunct Emergency Broadcast System.
For its second collection, Wolk Morais offered 27 looks. There was a lot of denim fabric in the line. One of these looks was a ball skirt made out of denim. Along with a floral jacquard bra, the line showed some sportswear, such as a short-sleeve shirt with dolman sleeves. The clothes featured California colors such as sunset shades, a dusted rose and a bronze.
Some of the looks were unisex. Hunter Peck, a grandson of Hollywood icon Gregory Peck, walked the show wearing a pajama-printed shirt and summer shorts.