As of Thursday, November 19, 2015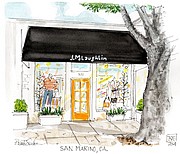 Classic styles with a touch of fashion have been the mainstay of J.McLaughlin, a small specialty-store chain founded in New York by two brothers in 1977.
After nearly 40 years in business, J.McLaughlin has been acquired by private-equity investment firm Brentwood Associates, based in Los Angeles. Terms of the deal were not disclosed.
J.McLaughlin, with 103 stores, has a major presence on the East Coast, but it is a popular shopping spot in several well-heeled California neighborhoods including San Marino, Montecito, Newport Beach and Palo Alto. It has a wide range of women's and men's clothing sold in a store environment that evokes a Main Street in an affluent neighborhood. It also has an e-commerce site, where shipping and returns are free.
"J.McLaughlin is an emerging lifestyle brand with an impressive following of loyal customers in sophisticated urban neighborhoods, affluent suburban main streets and resort destinations," said Roger Goddu, a partner at Brentwood Associates. "We are thrilled to be partnering with the company and plan to leverage the strength of the brand to accelerate the company's growth."
J.McLaughlin was founded by brothers Kevin and Jay McLaughlin when they opened up their first store on Manhattan's Upper East Side. The stores carry traditional clothing that is color- and print-driven. Price points for dresses run at about $225, and sweaters are priced between $135 and $198.
The McLaughlins describe their retail chain as a purveyor of lifestyle brands rooted in the American traditions of sport, work and play. The company, headquartered in Brooklyn, N.Y., produces much of its merchandise at its Greenpoint factory at its corporate base.
"We are extremely proud of what we have achieved in our 38-year history, and we're excited to partner with Brentwood to usher in the next phase of J.McLaughlin's journey," said Kevin McLaughlin, the company's chief creative officer. "Brentwood has proven through prior investments to be a value-added partner, and their experience in both the direct-to-consumer and retail channels will be a unique resource as we continue to grow our brand."
Brentwood has invested in clothing retailers and restaurant chains as well as other industries. In 2012, it acquired Soft Surrounings, a women's clothing-catalog company that has branched out to retail stores.
Also in 2012, Brentwood acquired Sundance, the clothing catalog and retailer started by actor Robert Redford in 1989.