RETAIL
RVCA's New Santa Monica Shop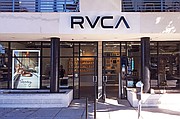 For more than five years, the RVCA brand has handled its urban side with a retail store on Fairfax Avenue close to Los Angeles' Mid-City neighborhood. The Costa Mesa, Calif.–based company recently opened a boutique for its beach culture side in Santa Monica, Calif.
On Nov. 24, the company held a grand-opening party for its boutique at 2625 Main St. It is located a few blocks away from the Pacific Ocean, said Brian Cassaro, RVCA's vice president of marketing.
The Main Street space was the former site of a Hurley store. RVCA will devote much of the boutique's space—less than 1,000 square feet—to the work of creatives involved in RVCA's Artist Network Program. Surfboard shaper Ellis Ericson will display some of his boards at the Santa Monica shop. Objets d'art from Kevin Ancell's recent gallery show, "Nos Vemos en Venecia," also will be exhibited at the new RVCA shop.
The Santa Monica shop also will offer RVCA's women's line, styles from the brand's denim program and, occasionally, exclusive T-shirts. For Fall 2016, the brand will be widening its array from the VA Sport collection, which will feature garments constructed out of performance fabrics, such as underwear, moisture-wicking tees and tops, and technical jackets.
RVCA is on the move. By the end of the month, it is scheduled to open a boutique in Byron Bay, Australia. Byron Bay is a center of Australian surf culture. It will be RVCA's fifth branded shop, Cassaro said. For more than three years, it has run a shop in Honolulu's Waikiki Beach enclave. It also has a shop in San Francisco.
RVCA was started in the garage of founder Pat Tenore in 2001. The popular brand was acquired by Billabong International Ltd. in 2010. A Billabong statement noted that RVCA was able to appeal to many action sports–friendly subcultures such as surfing, skating and mixed martial arts as well as the art scene.