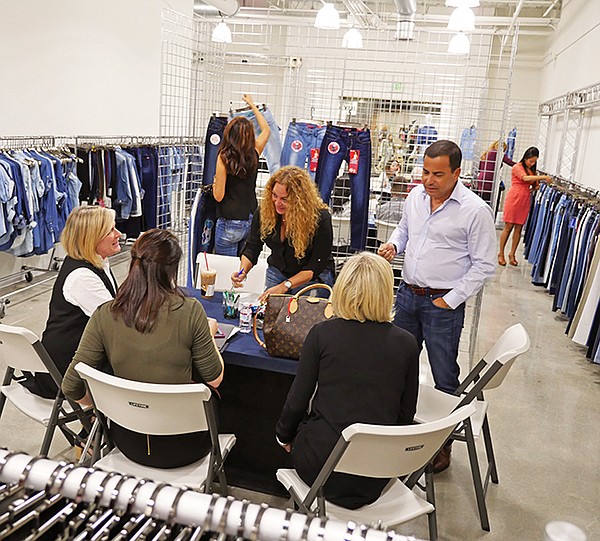 LA MAJORS MARKET
Business Is Changing at LA Majors Market
Traffic was reportedly varied at the Oct. 5–7 run of the Los Angeles Majors Market at the California Market Center. The show is focused on a wide array of product aimed at department stores and chain retailers.
Steve Maiman, co-owner of Stony Apparel Corp., said his showroom was consistently busy with more than 75 appointments during the show. Other exhibitors reported slow traffic, and some said only the first day was busy. Others said that in the final hours of the last day, there were still buyers reviewing Spring 2016 collections in showrooms on the CMC's third and eighth floors.
If there was a wide range of opinion on retail traffic, there seemed to be a consensus on the direction of the majors business, which has been changing in recent years. Vendors and retailers have been experimenting to find what would give them an edge and what will help them stay in the game.
Ike Zekaria, owner of Windsor Fashions Inc., a mall-based retail chain of 115 stores, said what was once the goal of the business—developing a strength in a specific area—is no longer a good strategy.
"Manufacturers are no longer afforded the luxury of staying in a niche business," he said. "The manufacturers that we are having most success with have been doing well because they are flexible. [They] have the ability to put out a great variety of looks. [They] can respond to market trends no matter the category, and [they] have the capacity to do both domestic and import production."
The way showroom owners conduct their business has followed a similar trajectory, said Alison Budow, president of Alison Budow Sales, located on the CMC's eighth floor. In 2014, her showroom specialized in three categories of clothing. This year, she expanded to seven to stay ahead of the market's pace.
"We used to do one thing; now we are doing three to four things to stay competitive," she said. "From my end, I'm diversifying and retailers are diversifying."
She noted there have been more styles that retailers have been requesting, such as "dorm." It's a market focused on athleisure-style clothes for young women who are moving away from home and going to college. She also noticed vendors offering more plus sizes and goods aimed toward e-commerce retailers.
Kate Healy, a national sales director for Los Angeles–headquartered Miss Chevious, said the fast-changing playing field requires quick reactions and strong partnerships with retailers. "You don't have as much space to be wrong," she said. "We're not focused on collecting orders. We're focused on getting every order right."
Other manufacturers have been finding success by adding specific qualities to their most successful products. David Vered, president of Los Angeles–basedYMI, said his label's "Wanna Betta Butt," part of the "Denim Fit Solution" program, has been one of the company's major performers. It represents 40 percent of the label's business.
"Denim will always sell," he said. "But in order to excel, you must do something that no one else has. This is a business of innovation."
G&H Group, headquartered in Commerce, Calif., made its Majors Market debut with juniors denim line Angel + Premium. Designer Janet Lien hoped the line would stand out because it is different from other juniors lines.
"What is missing in juniors is a lifestyle," she said. "[Angel + Premium] is clearly less novelty. It is more classic."
For Kimmy Song, chief executive officer of !iT Jeans, what's missing in juniors is a premium-denim product at a truly competitive price.
Song was at the Majors Market to reintroduce her young contemporary denim collection S.O.N.G., which stands for "star of a new generation." S.O.N.G. initially debuted three years ago as an exclusive Nordstrom line, but the line was put on hold while Song adjusted the focus to relaunch for Spring 2016.
"You are dealing with a very smart customer," Song said. "You have to begin at the right price."
For S.O.N.G., that "magic" retail price range is $38 to $58. The launch collection features jeans in a variety of fits, including a boyfriend style and a "sweet girlfriend" fit, which is a distressed skinny jean. There are also several overall styles as well as shorts. The line features premium fabrications such as an ultra-soft cotton denim with 1 percent stretch and a super-soft viscose/stretch denim.
Alison A. Nieder contributed to this story.
RELATED STORIES