As of Thursday, October 8, 2015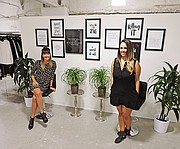 The Hanger Showroom
(213) 455-5958
Dakota Showroom
(310) 740-3546
California Market Center, Suite B567
Before Selena Slogar and Christie Danielson moved into their new 3,600-square-foot showroom on the fifth floor of the California Market Center, the space was completely renovated. Carpeting was removed in favor of light concrete floors, a dropped ceiling was removed, and the existing fixtures were replaced with hanging industrial versions. An enclosed space at the center of the room was removed to make way for a small bar cart.
The sales representatives arranged the new open space to house their two showrooms, Slogar's The Hanger showroom and Danielson's Dakota showroom.
The two each operated separate showrooms on the Cooper Design Space's third floor but decided to move when they heard about the renovations planned for the CMC. Once fifth-floor renovations begin next year, the two plan to move to separate showrooms on the same floor. (Slogar and Danielson also share a showroom at Fashion Industry Gallery in Dallas.)
Each showroom has its own aesthetic. The Hanger primarily carries Australian lines, and many of Dakota's collections are from the United Kingdom.
But the collections have similar price points (most pieces are retail priced under $200) and sell in many of the same retailers, including Nordstrom, Holt Renfrew, Asos, Topshop, Fred Segal, Myer, Scout and Molly's, Kyle by Alene Too, Mod Cloth, Nasty Gal and Revolve.
At The Hanger, Slogar's Australian apparel lines include Shilla The Label, Lola vs. Harper, Dashiki, None the Richer, Sea Dreamer, Wish Australia, MVN, Runaway and Lexi as well as accessories lines Grace Bijoux and Nat Kent.
On the Dakota side of the showroom, Danielson's lines include East London label Goldie London, Brat and Suzie, Johnny Loves Rosie and Native Rose, also based in the U.K., as well as Los Angeles–based Lisakai and 523 as well as Alabama-based Beach Belles, a collection of embellished bracelets that can also be worn as hair ties.
Slogar and Danielson describe their lines as established brands that might be new to U.S. retailers.
"There are so many brands that haven't been discovered yet," Slogar said.
In the showroom, there are individual areas for each collection—with space enough between them so that they each can have meetings with buyers at the same time. There are spaces to relax, including an inspiration wall featuring upbeat messages such as "Happy Girls Are Prettier" and "Keep Your Heels, Head and Standards High."
During LA Fashion Market, the two plan to serve mimosas and brunch in the morning and lunch later in the day for their retailers—a practice they follow during Dallas market as well. They are also hosting a grand-opening party on the first day of market.