As of Friday, October 9, 2015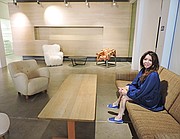 Cooper Design Space, Suite 800
(213) 532-8818
After more a decade in The New Mart, the Hatch showroom has moved to the Cooper Design Space.
Since 2004, Hatch was co-located within the 10eleven Showroom on the ground floor of The New Mart. Kay Sides, who owns Hatch, said she and 10eleven owner Betsee Isenberg began thinking about moving one of the showrooms last year.
"We were bursting at the seams," Sides said. "We both had no place to grow."
The two debated who would move, Sides said, but ultimately she decided Hatch would relocate.
"I like change," Sides said.
(Sides and Isenberg had co-located showrooms in New York and Dallas, as well, until about six years ago, when each opened separate spaces.)
With nearly 20,000 square feet, the new Hatch showroom is a gallery-like space housing all Sides' apparel, accessories and footwear lines.
The new showroom space previously housed the Robert Rodriguez showroom and offices. There are light wood details and clean white walls. Windows wrap two sides of the showroom, and offices feature glass walls. Sides plans to install roll-down shades on the offices to be able to create individual, gallery-like spaces in the showroom.
There is a main space where collections including JET by John Eshaya, Banjanan, George Loves and Ji Oh will be displayed on suspended racks.The James Perse and Thomas Wylde collections will get their own rooms as well, and there will be dedicated vignette spaces for MadeWorn Rock and Stance Socks. There is an activewear room, featuring the Koral, B3.0, Vipe and Well Kept collections. There is also a jewelry room and a separate space for footwear lines including Soludos, Penelope Chilver, Say the Sun and Mara and Mine. (Hatch also represents Superfine, and Fine by Superfine on the East Coast.)
Sides has been working with interior designer Cliff Fong of Matt Blacke Inc. to create the look of the L.A. space, which combines natural elements with a clean, mid-century aesthetic.
"He's a longtime friend," Sides said. "We both worked at Maxfield back in the day."
In the days leading up to Los Angeles Fashion Market, Sides and her team were setting up the space and arranging furniture in the lobby, including a Hans Wegner sofa, a Mogens Lassen sheepskin chair and a Illum Wikkelso lounge chair. A Charlotte Perriand bar is coming soon, where buyers will be offered coffee and drinks.
"We're getting so proper," Sides said.