As of Thursday, October 8, 2015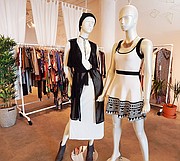 Gerry Building, Suite 304
(323) 234-6000
For years, HyFve has had a large showroom at 10th and Crocker streets in the Los Angeles Fashion District, where it sold Immediate goods to store buyers.
But recently it decided to branch out and take over a spacious showroom in the Gerry Building, where the company's three lines are shown for buyers looking to place orders farther out in the season.
HyFve Inc., formerly known as Double Zero Inc., does brisk business with department stores such as Dillard's, Von Maur and Belk and specialty-store chains such as Guess, said Jay An, the general manager of HyFve Inc.
"We will still have our showroom on Crocker Street for Immediates and selling two months out," he said. But the new showroom is more of an appointment-driven space that looks beyond the fast-fashion cycle.
The three lines under the HyFve umbrella cater to a young contemporary market looking for medium price points.
The company's newest line is Fashion on Earth, which is just launching for Spring/Summer 2016. It is running strong with boho looks influenced by the peasant and hippie trend. Cluny lace, cotton gauze, crinkled rayon, rayon and fringe are some of the fabrics and embellishments used. Wholesale prices range from $9.75 to $32.75.
Peach Puff, a print-driven collection that has a vintage vibe, has been around for nearly four years and is carried by stores such as Bloomingdale's. "There is more craftsmanship to Peach Puff, so it is a little bit more pricey," An said. Wholesale prices range from $12.75 to $34.75.
The HyFve line is the oldest of the company's lines and is made for a customer in her late teens to late 30s. It also follows the latest trends with wholesale prices ranging from $8.75 to $27.75.
The lines are primarily manufactured in China and Vietnam with about 10 percent of the group made in Mexico.