As of Thursday, October 15, 2015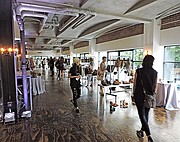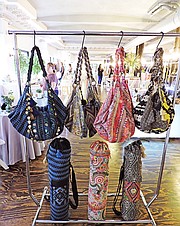 This season, lifestyle trade show Coeur moved to the Alexandria Ballrooms for its Oct. 12–14 run.
The new space, which combined classic Hollywood style with modern elements, featured floor-to-ceiling windows that overlooked Spring Street in downtown Los Angeles.
"We are the first-ever event in this space," said Henri Myers, co-founder of Coeur. "They completed the renovations last week."
Myers said the space was a good fit for the show's lifestyle focus, which includes jewelry, handbags, apparel, loungewear, bedding, home décor and fragrance.
The Alexandria Ballrooms are located north of Coeur's previous location at the Cooper Design Space, which had been Coeur's Los Angeles home since 2011. Shuttle buses emblazoned with the Coeur logo ferried buyers between the two venues.
Retailers shopping the show included Nordstrom, Scoop, Nest, Adorn,Lush, Revolve, Lost & Found and Nina at Fred Segal as well as the museum shops at the Museum of Contemporary Art and the Los Angeles County Museum of Art.
Designer Anita Arze was among the returning exhibitors at the show. Arze, who said she landed a few orders for her collection of Bolivian-made luxury knitwear, praised the show's new look.
"The buyers love the new space," she said.
Shaina Fast, owner of the It Matters Studio showroom, was showing at Coeur for the first time with Bretboho, her newly launched collection of yoga bags, totes and cosmetic bags.
"Coeur has a great reputation," she said. "As a rep, I walked it for the past four years."
Wholesale priced from $22 to $78, Bretboho is sold in Zulily, Haute Look, Urban Outfitters and South Moon Under.
Another new collection was Korut Studio, a made-in-America jewelry line based in Berkeley, Calif.
Owner Lisa Kaufman started the line six months ago and has landed orders with San Francisco boutiques such as Life and Heartfelt. Kaufman has her designs 3-D printed and then cast in silver or bronze. Wholesale prices range from $28 to $120.
Love Tanjane designer Sonia Erneux was at Coeur with her collection of dresses, tops and casual loungewear hand-dyed in Ojai, Calif.
The collection began as a lingerie line and evolved over time into a loungewear collection featuring tie-dyed rayon/Lycra knits. More recently, Erneux has added new styles such as caftans and bias-cut slip dresses in new fabrications, including a made-in-USA cotton gauze and a Japanese cupro rayon.
Wholesale prices range from $44 to $79 for the gauze pieces and $62 to $110 for the cupro styles.
This was Love Tanjane's second season at Coeur. "I love the fact that it's a lifestyle show," Erneaux said. "I was excited to see the new look. The spirit of the show is fun and positive."
Erneux met with some of her existing retailers at Coeur and opened a new account in Southern California.
This was the first time showing at Coeur in Los Angeles for Delphine Germano, fashion consultant for Jack Gomme, a French handbag collection.
The bags are made in France from Italian leather. There are also some fabric bags and totes, including a coated linen tote bag that was getting a good response at Coeur and ultra-lightweight bags made with a Japanese fabric.
Germano was consistently busy at the show, meeting with several potential new stores.
"I feel very privileged a lot of people stopped by," she said, adding that she met the owners of new Los Angeles store Please Do Not Enter , which placed an order for the collection.