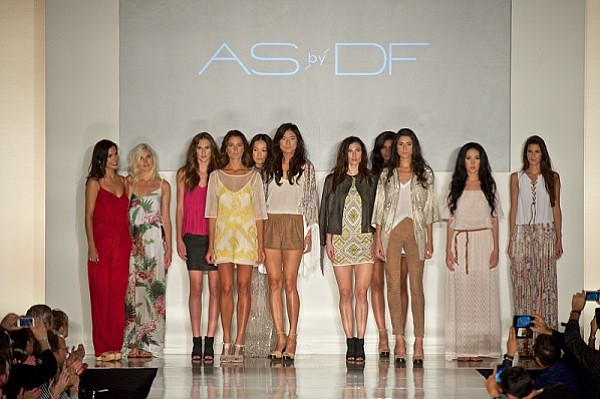 LOS ANGELES FASHION WEEK
FBI All Aboard: Fashion, Awards and a Big Check
It was a hot night (seriously—a heatwave + no air-conditioning had us baking in our stilettos) in downtown LA when Fashion Business Inc. hosted its fifth-annual All Aboard Runway Show at Union Station.
Guests at the Oct. 13 event were aflutter with fans to beat the heat as co-hosts David Ono ("ABC7 Eyewitness News") and Erica Ash ("Survivor's Remorse" and "Real Husbands of Hollywood") kicked off the event.
FBI founder Frances Harder and Executive Director Trish Concannon presented Ayumi Shibata, designer of / éis /, with the emerging designer of the year award. Shibata presented Harder with a white hat similar to the ones worn by models in a runway presentation of / éis /.
Diane Focil, designer of AS by DF and ASTARS, received the Moss Adams Fashion Innovator Award (MAFI) from Martin Hughes, Moss Adams partner and national apparel practice leader.
Focil, looking cool all around in a red suede jumpsuit, presided over a runway presentation of her Spring 2016 AS by DF collection.
Fashion Group International-Los Angeles' Linda Arroz was also on hand to present FBI with $19,000—in the form of a very big check—from the Fashion Group Foundation to help fund retraining and fashion education for displaced apparel industry workers.
The runway show featured surf and swim styles by Odina and bridal and evening gowns by Vene AI. There were breezy separates and dresses in icy pastels by Soverra, Nepali-made sweaters by Plush Cashmere and Chyangra Pashmina. And designer Marisa Kenson presented her newest collection and business concept, MK Collab, which allows fashionable women to ask as stylists and e-retailers for the brand.