RETAIL
L.A.'s Arts District to Get New Mixed Use Retail Compound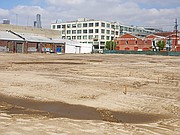 Real estate companies Blatteis & Schnur and ASB Real Estate Investments redeveloped parts of Abbot Kinney Boulevard in Los Angeles's bohemian Venice district, and the companies will take their know-how to another redeveloping neighborhood with the reputation of attracting creative people.
On Oct. 22, the chiefs of Blatteis & Schnur, ASB Real Estate and their partners held a groundbreaking for a more than $80 million project called AT Mateo. It's located near the corner of Mateo and Sixth streets at the edge of Los Angeles' Arts District. The site is a short walk to the Sixth Street Viaduct Replacement Project, a $500 million project with the aim of improving access into the Arts District.
AT Mateo's is located on a 3.5-acre former industrial site. By November 2016, there is planned to be a 175,000-square-foot compound of restaurants, boutiques, creative offices and a 550-car parking structure.
Robert Bellinger, president and chief executive officer of ASB Real Estate Investments, said AT Mateo will be a signature project for his company. The architecture, amenities and the tenant mix would honor the history of the neighborhood as well as serve the needs of the people living in the Arts District.
He also noted that change will be a crucial part of redeveloping neighborhoods. "If you are not changing, you are falling behind," he said. His property is located in a quiet pocket of the Arts District that is on the cusp of change. Once a street of warehouses, Mateo currently is the address to a trendy Blue Bottle Café and a restaurant, Zinc Café & Market.
The Arts District has become a popular place to live among well-to-do creative types. A two-bedroom, two-bathroom unit in the district's Molino Lofts sold for $996,000 in the past year. The neighborhood has attracted boutiques with a luxe edge such as Guerilla Atelier, Apolis: Common Gallery and Wittmore, which opened this summer at the ground floor of the massive One Santa Fe residential compound, with more than 438 units. It is located a few blocks away from AT Mateo complex.
The architect for AT Mateo will be Edge Architecture/Planning of Newport Beach, Calif., which also worked on projects for Westfield malls in San Francisco as well as Century City and Westfield Topanga in Southern California. Keith Ray, president of Edge, said his company would use brick and cobblestone found in the Arts District to complete the look of the AT Mateo compound.
Tenants of Abbot Kinney buildings owned by Blatteis & Schnur include Blue Bottle Café, Rag & Bone and the Kit and Ace boutique.