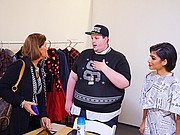 After five runs as a solo event, Venue Trade Show's streetwear grit set up shop with the gowns and sequins of Style Fashion Week.
The partnership between the fashion events producer and the streetwear trade show had its first run Oct. 15–16 at The Reef (formerly called the LA Mart). Style Fashion Week produced its Oct. 14–18 series of runway shows in the same place, a 60,000-square-foot events space on the second floor of The Reef. Style Fashion Week has produced fashion weeks and designer showcases in Los Angeles for the past six years.
Style Fashion Week cofounder Veronica Kerzner acquired equity in Venue Trade Show, but she would not disclose how much of the trade show she owns. The partnership aims to settle one of the main complaints about Los Angeles fashion weeks in recent years—that retailers never attend runway and fashion-week shows. Kerzner said the partnership will take care of the needs for vendors, designers and retailers. The new arrangement will merge trade-show business with runway-show sizzle.
"[Designers and brands] will know that they will get sales. They know that they will get press, and they will create great content for the brand. All of these elements are key factors in building a successful business," she said.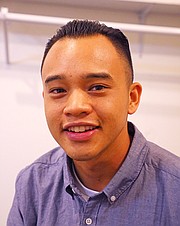 Venue founder Miles Canares conceded that streetwear crowds and attendees for glittery fashion shows don't seem to mix. "That was one of the toughest things," he said. "We went back to the drawing board a few times on this." But it was crucial to do something different for the young men's–focused trade event, which operates in a market dominated by the Agenda trade show, which runs biannually in Long Beach, Calif. Venue also competes for the same field as the LA Men's Market, which also runs biannually, at the California Market Center showroom building in downtown Los Angeles.
"Trade shows have gotten so stale," Canares said. "Buyers would rather do their business by email. If we give them something new to look at, if the event is more than just attending just a meeting, it will bring excitement back to trade shows."
Kerzner forecast that Style Fashion Week and Venue will run together three times annually. In Los Angeles, it will run in October and March, when LA Fashion Week is typically scheduled. It will also run in New York during New York Fashion Week: Men's, the runway show series devoted to men's styles. Specific dates have not been set for any upcoming shows.
For future shows, Venue will exhibit not only streetwear and men's brands, but it will also feature women's brands and accessories. Emerging designers and brands participating in Venue also will produce runway shows at Style Fashion Week. Canares said Venue will keep a focus on the youth market, which embraces streetwear and action-sports styles.
The mix of trade show and runway has been tried before. Kelsi Smith, a former Los Angeles Fashion Week show producer, scheduled trade show–style booths and fashion presentations at her former LAFC events. She closed LAFC in March and exited the business of producing Los Angeles Fashion Week shows.
"It's a good idea. You can bring commerce to Fashion Week," Smith said of the partnership between Venue and Style Fashion Week. However, she contended that LA Fashion Weeks are scheduled after the great majority of retailers write orders for the important Spring and Fall seasons. The shows come too late for some.
"They're not doing a big, fancy show for everyone's entertainment," Smith said of designers. "They're doing it for business." Designers often complained that they weren't drumming up enough business from runway shows, she said.
When she produced runway shows, she charged brands $500 to $1,500 to produce a show. Shows can cost more than $30,000 to produce, she said.
Kerzner said that a calendar date should not get in the way of business. "Whether it is late or not late, people are always buying," she said. "If market dates are inconvenient, we need to do our best to get retailers and create an environment that will help business."
During the last run of Venue, a few brands tried out the new arrangement. Streetwear brand Civil Society, women's contemporary label Sarafia and eveningwear brand Anjé ran booths during Venue and also produced Style Fashion Week runway shows.
Marc Von Munster, who was born Marc Rinehart, is an emerging designer from Connecticut. Kerzner invited him to exhibit at Venue and attend Style Fashion Week. It marked the first time he had exhibited his contemporary, pop art–inspired line, MVM. He got to pass out more than 50 of his brand's lookbooks.
While Venue closed at 6 p.m. during its two days of operations, exhibitors had the option to keep their booths open when Style Fashion Week ran runway shows at nights. Venue also hosted space for art galleries to exhibit paintings. Between runway shows, Style Fashion Week attendees browsed art at the trade show's space. After Venue wrapped up operations on Oct. 16, the gallery section was called Art Venue LA and was organized by Kerzner's team.
At Venue, Canares said, buyers from retailers such as Tilly's, Nasty Gal and Kitson as well as representatives from Japanese distributors walked the show. Brands such as Wolf & Man, The Kennedy Denim Co., Versalution Worldwide, LRG, SSUR and Honey Brands were among the 65 vendors at the show.
Brian Chan of Wolf & Man said he met with new boutiques that were interested in his wovens and were seeking a more sophisticated look. The Wolf & Man booth also did a lot of cash-and-carry business. "It's great. They get a real feel for the brand," Chan said of attendees dropping by the show.
Jason Ahn, cofounder and creative director of Kennedy Denim, exhibited his full Spring '16 line of denim, which, he said, represents a new direction for his label. "The line is our first step into a more branded jean," he said. "We're trying to create a more premium look for the streetwear market."