As of Thursday, September 3, 2015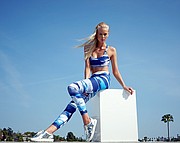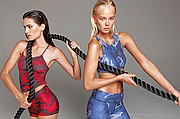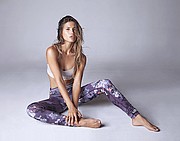 Los Angeles–based activewear brand Wear It to Heart got its start as a direct-to-consumer brand that launched in 2014 with the opening of the company's online store. The opportunity to interact directly with the activewear community provided valuable customer feedback, which helped the company launch its wholesale business following the brand's debut at the Agenda trade show in Long Beach, Calif., and the Axis trade show in New York.
W.I.T.H. consists of a variety of sports bras and leggings, including capris, shorts, tennis skorts and extra-long leggings.
"Our most recent collection was inspired by the California desert and features prints such as cactus flowers, indigo, tie dye and daisies. We are now offering solid leggings for the first time as well," said Sunnie Ha, director of design.
The collection combines fresh and edgy mixed prints, such as stripes, polka dots, florals and camouflage as well as intricate cuts that make most of the tops and leggings work for both workout and everyday wear.
Retail prices range from $68 for printed leggings to $100 for more-complicated pieces. W.I.T.H. is currently carried throughout the U.S. in specialty stores such as Bandier and Paragon Sports as well as workout studios, including Equinox.
According to Ha, about 15 percent of all apparel sold in the U.S. falls into the "athleisure" category. "The crossover functionality, [including] performance and style, have converged," Ha said. "Activewear is the new denim."
W.I.T.H is run by a collective of veterans who have deep roots in the LA manufacturing industry, Ha said. All designing is done in Los Angeles while products are manufactured at the company's own facility in El Salvador. "Our family [runs] a very successful private-label [business with] apparel manufacturing plants in El Salvador. Because of this, W.I.T.H. remains nimble, innovative and is able to quickly [produce] current trends," Ha said.
For sales information, contact Juan Zighelboim at (305) 503-4139, Ext. 550, or jz@wearittoheart.com.