As of Wednesday, September 16, 2015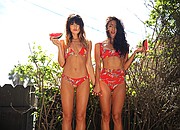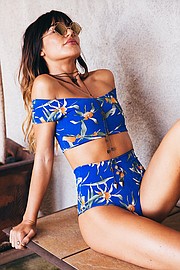 Sarah Fisk knew nothing about swimwear when she launched her Swim Like a Mermaid line in March 2014. She just knew her passion was bikinis and she liked being near the ocean.
So she watched some YouTube videos, bought some books, started taking swimsuits apart and had her boyfriend teach her how to use the sewing machine in his car design studio. Then she launched her swimwear line.
"For the first year, I was making everything by hand," said Fisk, who studied photography for a brief time at the Otis School of Art and Design in Los Angeles. "I literally cranked out six to 10 suits a day, depending on what I had to get done. ... It definitely gets better the more you do."
This year, she is working with a factory in downtown Los Angeles for her Spring/Summer 2016 line, which has a tropical print motif that gives the line a 1970s retro feeling. "I met with a lot of factories," said Fisk, who designs the collection. "I had samples made at a couple of places but was not happy with the quality or they weren't very fast."
She finally found a factory that met her standards, and she has been quickly moving forward since then.
Her suits sell at Clean Aesthetic, a boutique in Playa del Rey, Calif., that sells only locally made goods such as art, jewelry, T-shirts and swimwear. The outpost also serves as the Swim Like a Mermaid showroom.
Fisk is taking a mid-range view on silhouettes. They are neither too skimpy nor too conservative. She has high-waisted and low-waisted bottoms that are not too cheeky. Some of her tops have more of a cropped-top coverage that can be worn with a pencil skirt, high-waisted jeans or a skirt. "That way you get to use it all year-round," the designer said.
Made of 92 percent nylon and 8 percent spandex, the suits are reversible to a solid print. Wholesale prices are $37.50 for separates and $57.50 for one-piece suits. For more information, visit www.swimlikeamermaid.com.