As of Thursday, September 17, 2015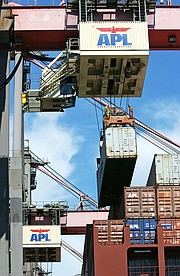 Southern California's two major ports in Los Angeles and Long Beach have seen a revival of activity this summer as shippers return to the West Coast after a major port congestion problem earlier this year.
The Port of Long Beach broke its all-time record for August with 703,652 containers coming through the docks. That number was up 22.8 percent over the same month last year.
July was also a banner month for the Port of Long Beach, with volumes hitting 690,245 containers, an 18 percent spike from July 2014.
For the year, container volumes have risen 5.4 percent to 4.7 million.
"Our partners once again have expressed their confidence in the Port of Long Beach, and we thank them fortheir business," said Jon Slangerup, the port's chief executive officer.
One reason for the surge in cargo-container volumes is that peak shipping season has started, bringing merchandise to the stores in time for the holiday season. The Port of Long Beach also reported recently that three new shipping-line services began calling at the port.
Also, in May, the port completed a major project to move containers more efficiently off the docks via an enhanced rail system.
The Green Port Gateway project is a $92 million project to update the Pier F support yard, adding more than 29,000 linear feet of track that services the port's southeast terminals.
Traffic was also brisk at the neighboring Port of Los Angeles, where 786,677 containers were moved in August, a 3.8 percent jump from a year ago. It was the strongest August performance since 2006, when 790,726 containers were landed on the docks.
"The numbers are strong indicators that our terminal operators, longshore-labor and supply-chain partners are adjusting to the new industry dynamics of carrier alliances, deploying larger ships and delivering higher container volumes per call," said Port of Los Angeles Executive Director Gene Seroka.
However, for the first eight months of this year, container shipments at the Port of Los Angeles were down 2.5 percent to 5.4 million containers over last year.
National front
Cargo-container traffic has been very healthy at the rest of the nation's major ports, too, according to the "Global Port Tracker," a report issued by theNational Retail Federation and Hackett Associates.
For the first half of the year, cargo-container volumes were up 6.5 percent to 8.9 million containers. For the entire year, they are forecast to rise to 18.2 million, a 5.4 percent increase over 2014.
Jonathan Gold, the NRF's vice president for supply chain and customs policy, noted that port congestion problems and slowdowns late last year and early this year during contract negotiations between longshore workers and their employers kept many seasonal goods from getting to store shelves on time.
But that isn't the problem right now. "After supply-chain worries earlier this year, inventories are plentiful this fall," he said. "Shoppers should have no worries about finding what they're looking for as they begin their holiday shopping."
Inventory volumes have been up for several months. In August, container traffic rose 5.5 percent to 1.6 million containers. September volumes are expected to inch up 1.2 percent to 1.61 million containers while October should be busier with a 3.8 percent jump to 1.62 million containers.
November will see a stiff spike in cargo, rising 7.9 percent to 1.5 million containers, but December should be quieter with container volumes dropping 0.2 percent to 1.44 million containers.
Hackett Associates founder Ben Hackett said economists have been watching a stubbornly high inventory-to-sales ratio this summer. But the cause appears to be the flood of cargo that came through the ports after the new West Coast longshore workers' contract was signed this spring rather than weakness in demand.
One year ago, the West Coast ports were experiencing major congestion problems due to a chassis shortage and bigger ships arriving at the docks. Then a protracted negotiation period to hammer out a new five-year labor contract with longshore workers led to labor slowdowns at the beginning of this year.
Some importers were seeing their goods sit on the water beyond the ports' breakwater as long as a month while waiting for a vacant berth.