RETAIL
Del Amo Announces New Retailers During Major Remodel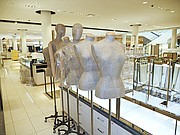 Del Amo Fashion Center will introduce a new look this fall, and when construction is completed, the 2.7 million-square-foot mall will be the largest in the Western United States, according to its owner, Simon Property Group.
A total of 100 new retailers will be joining the mall, located in the South Bay of Los Angeles County. Kate Spade, Hugo Boss, Brooks Bros. and Vince Camuto are among the high-end boutiques that will join Del Amo. A full-line Nordstrom is scheduled to open Oct. 9
The two-level 138,000-square-foot Nordstrom will feature brands such as Topshop/Topman, Rag & Bone, Current Elliot and Brandy Melville as well as a glass exterior. The Nordstrom made waves when it was announced in late 2012 that it would relocate from the South Bay Galleria, a Forest City property located three miles away from Del Amo.
Bob Middlemas, Nordstrom's executive vice president, Southern California region manager, said a new building and a new look for the mall were instrumental in Nordstrom's departure from the Galleria. "The main factor is that we got a brand-new store," Middlemas said. "A brand-new store is better than a retrofit."
He also noted that the mall business is changing. "The [malls] that will be around in two decades are reinventing themselves," Middlemas said.
Simon declined to state how much it spent on redevelopment, but media reports stated that the company spent $200 million for the remodel. It is the first major redevelopment of the sprawling property since the 1980s. In 2006, an open-air "lifestyle" wing was added to the mall.
Simon acquired the mall in 2007. Since then, the mall owner and property developer was focused on redeveloping the sprawling property, said Chuck Davis, Simon's senior vice president of development. However, it took a lot of time to get the redevelopment rolling. A lot of the time was spent on sales, or convincing department stores, specialty retailers and restaurants that they'd want to open new locations at a remodeled mall. Time also was spent on diplomacy, convincing department stores and others who had a stake in the mall that they should support a remodel.
Construction on the remodel started three years ago. Some new looks for Del Amo will include a Grand Court area, which will be distinguished by natural lights emanating from its skylights and a glass wall looking out to the rest of the center as well as two-story emporiums from retailers Uniqlo, Zara and H&M. A short walk from the Grand Court will be the site of Del Amo's Luxury Court, located between the mall's Macy's and Nordstrom stores. It will be the address for mall's luxe retailers, including Brooks Bros.
The mall's food court was removed. In its place, high-end restaurants such as Din Tai Fung, the highly popular Chinese dumpling restaurant chain, will be constructed. Del Amo's remodel will add 1,951 new parking spaces to the mall, bringing the total to 11,000 parking spaces. The new parking spaces will include 21 charging stations for electric vehicles. Davis said that 95 percent of material from buildings demolished to make way for the remodel was recycled or reused to construct the remodel.
RELATED STORIES