RETAIL
SixHundred: Streetwear in Front, Manufacturing in Back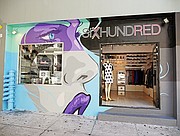 Since 2009, the boutique SixHundred has been selling streetwear and fashion to the loft dwellers of downtown Los Angeles.
But directly behind the 800-square-foot selling space of the boutique, located at 600 S. Spring St., is the other half of the business. It's a design studio and sample-making space for the manufacturing business run by Alan Bunao, SixHundred's founder and owner. He says that the diversity of his business is the key to the survival of projects such as his retail store.
"Retail goes up and down, but production is pretty consistent," he said.
Initially a multi-brand store, about 60 percent of SixHundred's merchandise is currently made up of private-label lines such as the store's namesake line,SixHundred, and Arts and Repertoire, which he introduced in February at the Agenda trade show in Las Vegas.
The top-selling item at Bunao's boutique is a jogger pant from his SixHundred line, which he eventually hopes to wholesale, perhaps in 2016. It retails for $120. "It's just on trend," he said of the drop-crotch and tight-ankled silhouette, which has become an increasingly common sight in many stylish neighborhoods.
But SixHundred puts a special mark on its joggers by constructing them out of fabrics such as selvage denim. The SixHundred jogger also features stylish details such as pin-tuck fabric and piping made from zippers.
Also popular are Arts and Repertoire flannel shirts, which mix plaids inspired by 1990s grunge styles with contemporary streetwear styles. Think plackets on the shirt seams. They retail for $140.
Another top-selling item at SixHundred is a collared, long-sleeve camouflage shirt by London-headquartered brand Marshall Artist. The shirt's abstract camouflage design attracts a streetwear crowd. The popularity also lies in the details, such as welt pockets.
Trained as a fine artist, Bunao started working as a manufacturing consultant a decade ago. He opened SixHundred in 2009 because he wanted to be part of the wave of businesses changing downtown Los Angeles into a neighborhood known for nightclubs and expensive restaurants. Since then a wave of emerging boutiques has opened and closed in downtown Los Angeles. A few new ones have moved in. He plans to keep SixHundred going in downtown Los Angeles. But he might change it a bit.
His boutique space might eventually serve as a showroom for his lines and his clients' labels. "I'd like to have my hands in every part of this business—manufacturing, retail and even showrooms," he said.