TECHNOLOGY
Fashion Meet Tech at Melange Live Event at The New Mart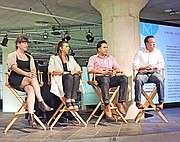 The worlds of fashion and technology merged at the launch of Melange Live, a conference that explored new developments in e-commerce, mobile/digital payments, brand building using social media and new innovations in wearable technology.
"It has become a mobile-first world," said Tom Keefer, who cofounded and organized the Sept. 16–17 event at The New Mart in downtown Los Angeles. Tom Keefer is a Los Angeles–based youth-marketing specialist who has worked with Newsweek Intl., LA Gear, K-Swiss, Mattel and the BBC Worldwide Global Licensing Team.
In recent years, the term "omni-channel" has become the buzzword for retailers looking to merge their bricks-and-mortar, online and mobile platforms. But as consumers become more comfortable navigating and shopping on these platforms, the distinction between them has become blurred.
Omni-channel, George Shaw, head of R&D for RetailNext, said, is "really the latest name for shopping."
Shaw moderated a panel discussion on the opportunities and challenges of omni-channel retailing, featuring panelists Lauren Croke, director of Web and e-commerce for Eileen Fisher; Suzanne Hader, chief marketing officer for Halston; and Alex Golshan, vice president of e-commerce/omni-channel at BCBGMaxAzria group.
"When we look at how things have changed over the last 10 to 15 years and where things are in terms of instant gratification, the younger generation, that's all they know," Golshan said.
The challenge is getting different departments with different procedures, or legacy systems, in place to cooperate.
"The customer doesn't care about your legacy systems," Golshan said. "At the end of the day, you don't want to get gridlocked on who gets the sale credit for which channel. If you have a customer who wants something, you should be able to pull from your wholesale bucket. You need an executive team that is focused on doing the right thing for the customer."
For many customers, the biggest challenge is finding the right product in the correct size. Manufacturers and retailers need access to real-time inventory in order to meet that demand.
"With Eileen Fisher the bottom line hasn't always been our driver," Croke said. "Eileen has always been about solving customers' problems. We need to break down the hurdles between visibility and inventory."
What's needed is a cultural change within organizations and within the inventory, Golshan said.
"You never want to have a situation where you're sold out in one channel and not allowed to tap into other channels," he said.
The panel also discussed the challenge of price discrepancy across retail channels.
"There are specific times of year [for example, Black Friday] when you know you're going to be outpriced by some of your retailers," Hader said.
"Our approach to omni-channel is really content-based," she said, explaining that mobile information can be "a ride-along" to a consumer's in-store shopping experience. Hader said Halston strives to provide customers with "a compelling second-screen presentation" by giving them news about celebrities wearing Halston or offering wardrobe advice and brand information.
"For us, a big focus is blurring the line between digital and physical," Croke said. "When I started it was how to take the best elements of the store and bring it online. Now it's the inversion. The store is still the place where we can drive customers. If somehow we were exposing inventory online and on time, we would understand the customer coming into the stores and we could curate the local environment."
Golshan agreed, noting that there is a lot of online data that brands do not have access to.
"If we had access to that rich data in the store, it would help us understand customers across channels."
Retail innovations
From Apple Pay to location-based marketing, there are several upcoming technological developments for retailers to provide better customer service and a more-engaging shopping experience.
Retailers are now challenged to keep up with the new technology. One of the worst experiences with technology is if it doesn't work, said Marie Driscoll, CFA director for the Fung Business Intelligence Unit at Li & Fung.
Driscoll said GPS-enabled apps allow retailers to engage customers while they're shopping in their competitors' stores and discussed the impact of "Uber-fication," or the sharing economy of websites such as Rent the Runway on the traditional business model.
The H.E.N.R.Y. consumer—described as "high-earners but not rich yet"—might not be able to afford to buy a designer handbag but could afford to rent one.
"They can live the lifestyle they can't afford in an Uber economy," Driscoll said.
Test-tube textiles and other developments
Kristine Upesleja, chief executive officer of Madisons-Innovative Textiles and an instructor at the Fashion Institute of Design & Merchandising, gave attendees an overview on wearable tech and new developments in what she calls "fashion engineering."
The popularity of "wrist tech," such as fitness trackers, is expected to drive interest in technology-enabled clothing such as activewear that measures your breathing and heart rate.
Upesleja highlighted new developments such as the Jins Meme smart glasses, which lets users navigate their cell-phone home screen using their eyes. Sensors in the glasses read the wearer's blinks and eye movements. Bragi's "Dash" wireless earbuds act as noise-canceling headphones and can track athletic performance. There is a new incarnation of the mood ring that measures if the wearer is angry or stressed and then sends meditation advice to a cell-phone app. The tech company Cute Circuit is integrating washable conductive ribbons into garments that enable the clothing to be connected to the Internet and be functional.
Upesleja also discussed new textile developments from 3-D printing to bioprocesses that "grow" nonwoven textiles from cellulose-based bacteria and bio-fabricated leather generated from animals' skin cells.
"Fashion hasn't changed much; you still need to dye, cut, sew and finish," Upesleja said. "The fundamentals remained the same for centuries. Today is a brand-new day."