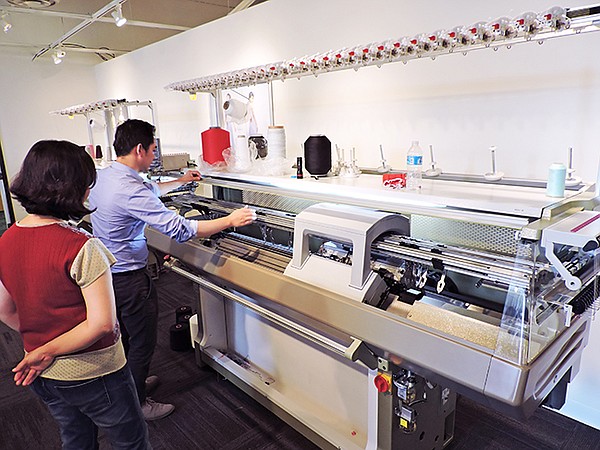 SHIMA SEIKI
Japanese Whole Garment Knit Technology Company Opens L.A. Showroom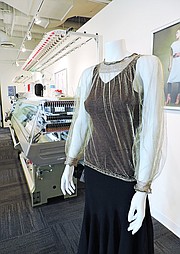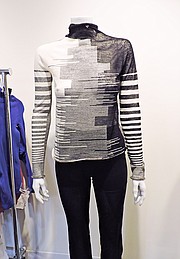 Knitwear designers and manufacturers looking for insight and inspiration have a new destination in the Los Angeles Fashion District with the recent opening of a permanent showroom and design center for Japanese knitting machine and software maker Shima Seiki at the California Market Center.
On Sept. 21, the company kicked off a weeklong grand opening in its showroom in the A-Lobby suite on the ground floor of the CMC.
The company—which has offices in Japan and Hong Kong, a showroom and design center in New York, and a factory in Cranberry, N.J.—has been looking for a Los Angeles space to house a West Coast showroom and design center. Shima Seiki tested the concept last year with a temporary space at The Reef (previously called the LA Mart) but ultimately opted for a permanent space at the CMC. The design center is currently open by appointment and staffed by two technicians.
"We can do training here; we can create samples and educate people about our technology," said Saraa K. Green, sales technician with Shima Seiki USA Inc. "If you have a project you want to do, we do a lot of R&D."
Shima Seiki has been making flat knitting equipment for more than 50 years in Japan and has operated the New Jersey factory for 30 years. About eight years ago, the company began producing apparel, said Matthew Lleyellyn, Shima Seiki USA's vice president. The company produces knitted garments for high-end labels such as The Row, Oscar de la Renta and Brooks Brothers. In Los Angeles, the company works with sweater makers such as Andari and Ball of Cotton.
The Los Angeles design center houses several of Shima Seiki's computerized machines, including the SWG091N2, which can produce accessories such as hats, scarves, gloves and socks, including toe socks. The SRY123LP is an inlay machine that works with a yarn unwinding device for fibers that don't come in a cone such as metallic or glass. "The inlay machine gives the look of a woven, but it's still a knit," Green said, adding that the machine can also produce heavier-weight designs.
"The SIR123 is our intarsia machine," Green said. "It's easy to run and maintain. You can do shaping and fully fashioned garments."
Visitors to the design center can also get a demonstration of Shima Seiki's SDS-OneApex3 CAD "Total Fashion System" concept, which offers yarn and knit simulation, 3-D virtual models, and patternmaking functions.
"Manufacturers who do fast fashion depend on sampling," Green said. The Apex3 CAD system can streamline the process. "They can cut one-third of the time [in sampling]. They can do one sample and then go to production."
Designers can choose from a preloaded library of yarns, scan a new yarn into the Apex3 system or virtually create their own. They can adjust the yarn gauge and view the yarn simulated in a fabric swatch or garment. Users can also start with a reference image and re-create the stitch structures.
"They can see different yarns in the same structure," Green said. "It saves so much time."
There is a trim library as well as an embroidery function, a jacquard function and the "Kaleidescope" tool, which picks up the colors from a mood board and translates them into different patterns.
"If you do this using Illustrator, it can take hours," Green said.
Virtual swatches and garments can be saved as a JPEG or Illustrator file. The Apex3 system will also generate a knit code to send to the manufacturer.
"This is information for the designer and the programmer so they are on the same page," Green said.
Apex3 can also be used for design in circular knitting, weaving, pile weaving and printing.
For more information about the design center, contact Green at (609) 655-4788 or saraa@shimaseikiusa.com. For information about Shima Seiki, visit www.shimaseiki.com.