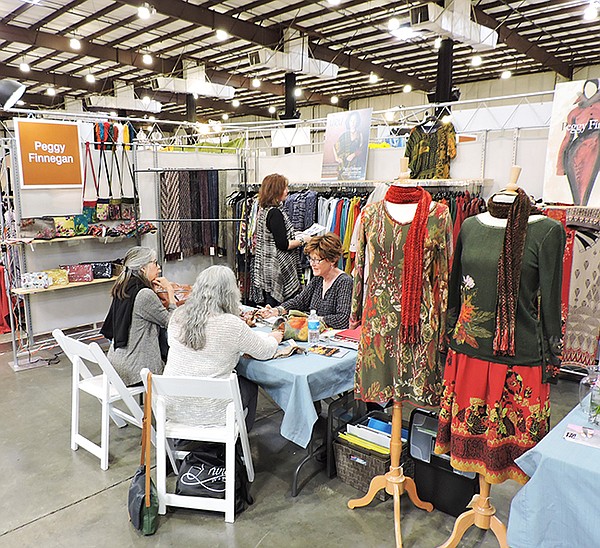 FMNC
'Optimistic' Outlook at Fashion Market Northern California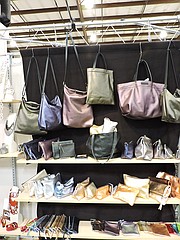 SAN MATEO, CALIF.—Booth space was sold out at the April 3–5 run of Fashion Market Northern California, which is held at the San Mateo Event Center in San Mateo, Calif., and attendance was on par with last April, according to Suzanne de Groot, executive director of the show.
"People have been writing," she said. "It seems optimistic."
The market got off to a brisk start, according to Susan Burris, a sales representative based in Bolinas, Calif., who represents Cutloose and Salaam.
"It was so busy on Sunday we couldn't fit in new people," she said between appointments and drop-in traffic on the last day of the show.
"Overall, people are feeling optimistic," she said. "This is such a strong area financially. People are shopping in those stores that offer service and attention."
Karen Anderson, owner of the KLA Showroom in Los Angeles, was equally upbeat about the market in Northern California.
"In Northern California, the economy is very good," she said. "Everybody is pleased. They are selling through merchandise in a healthy way and bringing in more. It's very upbeat."
Anderson represents Kuna, a Peru company that makes scarves in baby wool/Alpaca; Paskma, a collection of cashmere/silk sweaters and coordinating scarves from India; Baci, an item-driven line from Italy; Cino, a blouse line featuring original prints; Fabrizio Gianni LA, a pants line from Los Angeles; Before + Again, a made-in-America collection of sublimation-printed tops and dresses; Joules, a well-established U.K. brand; and Banaris, a North Carolina–based collection of Merino wool/silk scarves made in India.
"This is a regional trade show that is very important, especially in the Northern California area," said Uta Wegman, who runs the Uta Wegman showroom in Los Angeles and serves as FMNC president.
"We have exhibitors from as far as Boston and retailers from across the Pacific Northwest as well as Colorado, Idaho [and Arizona]," she said, adding that the show draws boutique retailers, catalog houses and "mini majors"—small regional chain stores.
The show features a mix of categories, including apparel for the updated, contemporary and juniors markets as well as accessories, footwear and gift items.
Wegman represents Sun 'n' Sand, a bag and hat resource based in Grand Prairie, Texas, as well as Sun 'n' Sand's fall hat line, Adora; Fraas Scarves, a family-owned business based in Germany; Victoria Leather, a made-in-USA leather handbag company from Pennsylvania; and Lauer Gloves, 100-year-old company based in Wisconsin.
For exhibitors carrying European collections, there was some urgency to get orders in before the end of the season.
That was the case for Petaluma, Calif.–based sales representative Peggy Finnegan, who said she was consistently busy with appointments on all three days of the show.
"I'm closing a European line," she said. "April 15 is the cutoff."
Finnegan represents Serbia-based collection Ivko, a 40-year-old family run business based in Belgrade, as well as several domestic collections: California-based URU; Portland, Ore.–based Yasuko Kuriska; Chicago-based Little Journeys; and Orland, Maine–based Dunlap Weavers scarves.
Mary Taft Johnson, a sales representative based in Grass Valley, Calif., said she had "my best show in years."
Johnson—who represents F.H. Clothing, Komil, Carson, Cotton Country and PB&J—said she met with existing accounts as well as several potential new ones, including a retailer from Albuquerque, N.M., and another with stores in Sedona and Scottsdale, Ariz.
Kenny Gandolfo, with Irvine, Calif.–based Z Supply LLC, said the first two days of FMNC were the busiest. In addition to Z Supply T-shirts, the company produces several contemporary collections, including Black Swan, White Crow, Others Follow and Rag Poets.
Accessories representative John Berger stressed the importance of meeting with retailers in their stores in addition to showing at FMNC.
"A lot of this is exposure and making contacts to see on the road," he said. "I live in Arizona and I have to see stores on the way here and on the way back."
Berger represents Tresca, a Fort Worth, Texas–based collection of wearable art, and Coronet, a Cleveland-based collection of moderately priced jewelry.
There were several new exhibitors at FMNC, including Xin Wun, owner of A Healdsburg, a newly launched collection of silk and cashmere scarves featuring original artwork by Wine Country artists.
Wun, who also owns the retail store Clutch in Healdsburg, Calif., initially began selling the scarves in her store for Sonoma County visitors who "want to take a memory of their time here."
Another new exhibitor was The Downtown Showroom, a New York–based showroom that represents primarily European collections.
"What we carry has a New York edginess," Gall said. "But there is that customer [here] who we don't get to see in Las Vegas. We saw some retailers who said they don't go to Vegas or New York."
The showroom's lines include two Croatian collections, L-ink and Igok Dobanik; two Dutch lines, Elsewear and Completo; Polish line Zuzu Bart; Israel-based Gershon Bram; Japanese collection Bon Bon Felt; and New York–based and New York–made collection Heydari Design.
"European lines have their own sense of style; they're not trying to follow a trend," Gall said. "The customers are looking for something unique that they won't find everywhere else."
RELATED STORIES