As of Thursday, April 14, 2016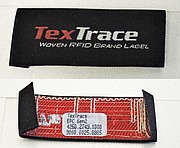 A Swiss company has developed a woven RFID (radio frequency identification) tag that can stand up to production processes such as stone washing, bleaching and enzyme finishing.
The passive UHF tags were developed by TexTrace AG and are available on the West Coast from California Label Products.
TexTrace labels retain their look, feel and performance even after industrial washing and drying, pumice stone and enzyme washing, and color-removal processes such as bleaching and ozone finishing.
The labels also stand up to after-sale processes such as home washing and dry cleaning.
RFID tags have been used throughout the supply chain for inventory tracking. Manufacturers and retailers can track a product as it clears customs and is shipped to the store. RFID tags can give retailers insight into inventory levels down to color and size to help store associates provide better customer service and prevent theft.
This inventory insight can help a retailer provide a seamless omni-channel experience for customers as well by providing an accurate look at inventory levels in stores, in stockrooms and in the distribution center.
Typically, RFID tags are stickers or hangtags that can be removed. Because TexTrace labels are sewn onto the garment, the company is highlighting additional benefits to brands such as ensuring their products are not sold by unauthorized resellers.
TexTrace also envisions consumer benefits, such as providing a transparent product history. The TexTrace tag can also store product information such as raw-material content, which is helpful if the garment is resold or recycled.
TexTrace also sees a benefit for garment rental businesses that want to streamline the rental process. "RFID is growing," said Gary Garfield, president of Los Angeles–based California Label Products.
Manufacturers and retailers can use RFID tags to track goods through the production process and ensure brand authenticity, Garfield explained. The sewn-on tags are better for in-store security "than those big clunky things" or a "hangtag that can be yanked off," he said. Plus, the tags can help retailers know what styles and sizes to reorder.
RFID tags can also store care information, which remain with the garment even if the care label is removed.
"It's not for everybody," Garfield said. "Obviously, the price of a woven RFID brand label cannot be compared to the price of a conventional woven label, which costs a nickel. But brand labels with built-in RFID are an all-in-one solution for product branding, brand and theft protection, customer experience, and omni-channel retailing. They offer tremendous added value, and TexTrace's leading proprietary technology is protected by more than 10 patents and trademarks."
Located in Frick, Switzerland, TexTrace is an affiliate of narrow-fabric technology provider Jakob Müller AG. For more information, visit www.californialabel.com.