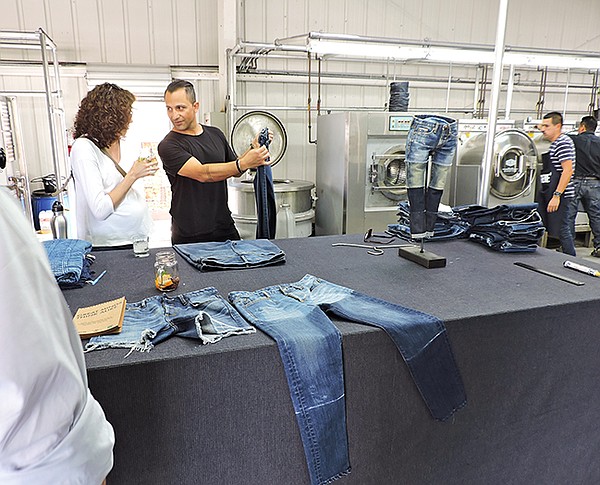 DENIM WITH LESS WATER
Denim With Less Water Demonstrated, Discussed at Calik Event at ECO PRK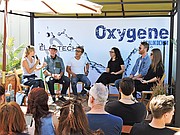 To get the perfect washed jean, denim makers put pants through multiple wash cycles.
"We know the only way to make beautiful jeans is with water and chemicals and stones. But that is changing," said Kevin Youn, owner of ECO PRK, a small wash house in Paramount, Calif.
Youn describes his facility as "maybe the smallest laundry in LA" but adds that for the last three years he has been washing jeans without using water or chemicals. The water he does use is recycled, which means he uses 95 percent less than other laundries.
"We don't use chemicals, but we do use enzymes. They always want the soft hand," Youn said. "We use water for the de-colorization process, and we are de-colorizing with ozone. We're processing using less than a cup of water."
Youn is also the owner of Tortoise denim, which features treatments Youn described as "a very aggressive wash."
"It's another way to prove that with one cup of water you can achieve a lot of things," he said.
Youn spoke at a March 23 event that was hosted at his laundry by Calik Denim. During the event, the Turkish denim mill demonstrated its Oxygene and Elastech products.
Calik's Oxygene fabric can be processed more quickly than typical denim, using less water, energy and fewer chemicals. The 100 percent cotton fabric is treated with a technology that allows for fast processing of a variety of finishing, including laser, ozone, sanding and enzyme. Elastech is designed for high-elastic stretch fabrics, reducing shrinkage and growth, eliminating puckering and stabilizing shrinkage results for different wash processes.
Last year, Calik saw a 400 percent increase in its U.S. business with Los Angeles brands, said Hakan Anuk, Calik's U.S. representative, who is based in Los Angeles.
Calik views sustainability as an investment, according to Ebru Ozaydin, the company's head of sales and marketing, adding that Calik wants to provide "think tank" forums for the industry.
"How can we make this experience easy and quick to provide core knowledge and information that you can digest quickly and easily and practically?" she said.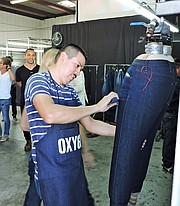 Ozaydin and Youn were part of a roundtable discussion about sustainability in the denim industry that was moderated by Amy Leverton, denim consultant and author of "Denim Dudes." Other panelists included Miles Johnson, creative director of Patagonia; George Wilson, owner of Rivi Goods; and Heather Morton, founder of Blue Salt Product Development Co.
The panel discussion ranged from sustainability and sourcing to transparency and consumer engagement. During the discussion, ECO PRK technicians ozone-treated jeans made from Calik's Ogygene for 1 minute, 10 minutes and 30 minutes to demonstrate how quickly the Ogygene fabrics can be processed.
"This Oxygene fabric that Calik has developed makes my life very easy," Youn said, adding that it allows him to create "vintage washes in 30 minutes rather than 5 hours."
Patagonia recently introduced a campaign for its sustainable denim. Titled "Denim Is a Filthy Business," the campaign highlights how Patagonia jeans are made from 100 percent organic cotton, which is dyed using a process that allows the company to cut down on water, energy and chemicals while producing less carbon dioxide than conventional synthetic indigo denim dyeing.
The dye process enables the dye to bond more readily to the fabric, reducing production lines, which reduces the amount of water and energy used. The jeans are not stonewashed, bleached or sand-washed, further reducing the environmental impact. And the jeans are made in Fair Trade Certified facilities.
"Patagonia has always been a very environmentally motivated company," Johnson said. "When we found out that waste was happening in our industry we decided to find out what can be done without water. [Patagonia Denim] uses 84 percent less water than a regular pair of jeans."
Jeans aren't a large part of the outdoor and active apparel company's mix, which allowed Patagonia to focus on the production method rather than trying to follow premium-denim trends.
"We wanted to concentrate on something strong and durable that would be around for a long time," Johnson said.
Wilson has been on the production side of denim with his Double Down Denim factory. But for his own label, Rivi Goods, Wilson said he prefers to use raw denim.
"I was doing a lot of vintage washes for people," he said. "An 'authentic' jean—it takes a lot of time. I was spending a full day at the laundry. Those kinds of washes go in four times."
But it's not just the water usage, Wilson said. It's also the the waste in the water after the dye and finishing processes.
"If you've ever been in a laundry when they clear out the catches, it's the most rank, foul thing. I've been a surfer since the '60s. The water is disgusting. Most people in LA use drains as trash cans."
Most laundries are small businesses, Morton said. Laundries have many of the same challenges of other small businesses—plus some additional challenges specific to the wash house business.
"Most laundries, when the water comes in, it is not good enough quality to process jeans," Morton said. "So they have to clean up the water to process the jeans and then they have to process the water [before disposing of it]."
Morton said she had the chance to work with Oxygene fabrics and found a significant reduction in the chemicals needed for finishing.
"Most chemicals were cut in half," she said. "The same with the bleach. We would [still] get the highs and lows but with half the water and half the labor. With ozone [finishing] it brought it down even more. The indigo shades were super rich and dark. And you don't need to use resin to get the yarn character to pop."
Ozaydin said Calik looked for ways to eliminate waste from the denim process.
"Wet treatment, pretreatment of fibers, finishing and dyeing—that is where most of the pollution has been coming from," she said. "We combine dyeing and finishing to help guys like Kevin so they can save water, energy and time."
Youn acknowledged that these cleaner finishing processes are costly.
"We are an expensive laundry, to tell the truth," he said. "Because we are the only one. Eventually, the cost will go down because the energy [usage] will go down."
Engaging the consumer
Wilson said there is interest in saving water and energy and reducing waste, but it requires a group effort.
"Everyone knows the state of the world," he said. "It has to change, but everybody has to be on board. That's the hard part. The consumer needs to change. There are seeds being planted."
Johnson said what's happening in the apparel industry mirrors the organic and local food movement.
"Twenty years ago you didn't ask or think where your food came from," he said. "Jeans are such a basic garment. People have been wearing jeans for most of their lives and never asked where they came from. The apparel industry is now starting to raise alarm bells."
But because the consumer is so price driven, Johnson said it's up to the brands to make sure the end garment is as sustainable as possible.
"I don't think people know that if they have a bit of fade on a jean someone was slaving over it with sandpaper for half an hour," he said. "They think it magically happens."
But that could be changing. Leverton said she has been seeing more companies highlighting the fabric brands they use to make their jeans. Ozaydin agreed, saying she thinks of Calik as "an ingredient brand of a jeans brand."
But it's a challenge to be transparent, she said, from the entire supply chain from cotton farmer to the end consumer."
And as more awareness about the "ingredient" fabric spreads, companies may change the way they source fabric.
"It wasn't that long ago that we didn't really think about what fabric will do," Johnson said. "We put it under a lot of pressure to look like seven different washes. At Levi's, we had one 501 fabric and wanted it to look like 13 different washes."
Today, brands are working with the mills to select denim fabrications that are best for the final product. For example, if the end product will have a light wash instead of starting with dark denim, start with a lighter one that won't require as much finishing to achieve the desired result.