As of Thursday, April 28, 2016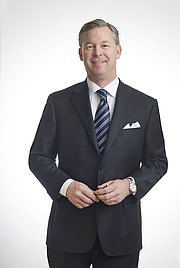 Jason Adams, with just a few months under his belt as president of Lectra North America, offers some positive impressions of his start at the cutting equipment and software specialist.
"Lectra has a very strong management team and a very strong customer team," Adams said. "We are tweaking some things in our sales processes. We have some more software deals and we're continuing to grow very well on the equipment side of the business. I have not looked back once."
Adams, a graduate of the University of North Carolina, joined Lectra on Jan. 1, succeeding Roy Shurling, who is now Lectra's global business development manager for automotive leather.
Adams comes to Lectra after holding a series of sales executive positions with Dassault Systemes, the most recent of which was vice president of sales, the Americas, for Dassault's DELMIA brand. Earlier, he was a vice president with Dassault's Apriso business.
Before joining Dassault, he was vice president of sales, North America and Europe, for Camstar Systems. Both Apriso and Camstar are among the leading independent manufacturing execution system (MES) providers. At Camstar, Adams promoted the launch of the company's life-sciences practice.
Adams says his management style is based on setting a vision and making sure that vision is based on clarity, care and creating a culture of accountability. His approach focuses on everyone doing what they say they are going to do. This works both ways, with Adams expecting his team to hold him accountable. He says he tries to remove barriers and help when needed.
"I make sure I am clear about my expectations for every person on my team and that we have a regular rhythm of communication, whether it's a town hall, a department meeting or one-on-one," he said. "I want to make sure everyone is getting the care they need to achieve their goals. I meet with each of my direct reports to see what their objectives are and how I can help. I am a very open door–policy guy."
Under Adams, Lectra North America is focusing on strengthening its competitive position and its long-term relationship with customers, extending its technology leadership and accelerating its organic growth. All of this will build on the company's long-time strengths of customer service and innovation. It is also essential for Lectra to stay on top of the evolving industries it serves, he said. To do this, the company seeks to build on its deep understanding of fashion and design across all its channels, he says.
Several business issues are converging in Lectra's three key markets of fashion, automotive and furniture.
"All three are different, but in a lot of ways they are becoming more alike," Adams said. "They are all affected by nearshoring, changing consumer demands and the need to optimize operations. All of these can have a positive impact. When I look at nearshoring, there is potential for a predictable supply chain. This can help spur creativity and accelerate innovation. We need to have our customers bringing products to market as quickly and efficiently as possibly at a high level of quality."
These industries are in a state of change with consumers driving demand, Adams said. Consumers today have an unprecedented influence on design due to their ability to comparison shop.
"[Customers] want more choices, more customization and more products faster," he said. "We have the most advanced technical knowhow for high-capacity cutting solutions and time-saving software."
Adams sees many opportunities for growth within Lectra's existing markets. These include denim manufacturing, auto manufacturing in Mexico and U.S. furniture manufacturing, which he says is in the midst of a rebound.
Adams places a lot of importance on industry trade shows with the goal of increasing brand awareness. His strategy is to be selective and pick the exhibitions that offer the greatest potential to enhance revenue and the ones that are sure to attract key buyers and influencers.
An example is the Texprocess North America event in Atlanta. It helps that Lectra's North American headquarters is in an Atlanta suburb, allowing the company to bring in its key talent for demonstrations of cutting equipment and software. Lectra historically has one of the largest booths at the Atlanta show.
Adams views Lectra's biggest North America challenge as finding a crystal ball to see what's next. "How do we see into the future, look around corners and ensure our customers are prepared for today's issues and tomorrow's opportunities?" he said. "The economy is still unpredictable, and consumer demand continues to shift."
In addition to its headquarters in metro Atlanta, Lectra North America has offices in New York, Montreal and Mexico City. It employs about 130 people in North America.