As of Thursday, August 18, 2016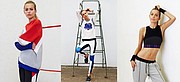 Australian-born activewear brand P.E Nation was conceived as a performance line that can translate into any lifestyle. The athleisure line launched in March in Australia and recently made its U.S. debut with its third collection, titled "All Sports."
Aussie designers Pip Edwards and Claire Tregoning took inspiration from their fashion background and applied it to their multi-faceted, active lives as mothers, fitness gurus and creatives.
The two met while working for fashion house Sass and Bide but began their careers independently. Edwards, a wardrobe stylist and design director of General Pants Co., started out at Ksubi in public relations, later becoming the senior creative and accessories designer at Sass and Bide. Tregoning worked in the design department at Topshop and had launched her own denim brand, Maise, before joining Sass and Bide as senior director.
"Both Pip and I have worked in the industry for years, and it was really only a matter of time before we did our own thing. We have a really similar style and overall aesthetic, so P.E Nation unfolded really organically," Tregoning said.
The duo came together to create P.E Nation. The P.E in the label's name stands for both Pip Edwards and physical education.
"Working for successful retail brands has allowed us to understand business as a whole, but the catalyst for creating our own brand was having a strong sense of identity and wanting to design something we genuinely wear every day," Tregoning said.
P.E Nation launched as an athleisure-meets-activewear brand but has already expanded its focus. "Activewear is just the beginning for us, and we want to give the P.E woman a complete offering for both on- and off-duty," Tregoning said.
The latest collection consists of 58 pieces in vibrant colors ranging from cobalt blue to bright red, canary yellow and pulp orange placed against white and black backdrops or part of geometric color-blocked patterns. There are leggings, tees, crop tops, bombers, jackets, knits, sweaters, shorts and swimwear.
The collection caters to "women of all activity levels as well as pre and post workout," Edwards said. "The range has been designed with retro-inspired influences, and the new silhouettes are an athletic-inspired addition to your everyday wardrobe."
Standout pieces include a performance jacket embossed with the brand's initials in an allover print, a black lightweight knit top with striped paneling along the sleeves and mid-back, a workman-style zipped jumpsuit, a lace-up hoodie sweatshirt, sweatpants featuring a zipper pocket detailing as well as a deep-V color-blocked swimsuit offering a retro eyelet zipper.
The performance pieces—such as the leggings, tops, knits and jackets—are suitable for working out but are equally stylish.
"We're busy, active mums who juggle work and life and love to keep fit," Edwards said. "We wanted to create a line that truly enabled our customers the freedom to wear both on- and off-duty."
Retail priced from $80 to $220, P.E Nation is carried in 50 international premium stores, including Net-a-Porter, Stylerunner, David Jones, General Pants Co., Carbon38, Lane Crawford, My Theresa and Selfridges.
Going forward, Edwards and Tregoning are already working on new categories and special projects for the brand.
"We have accessories, knitwear, denim and swim all in the pipeline as well as collaborations," Edwards said.
For more information, contact the By Land + Sea showroom in the Cooper Design Space at (213) 327-0088 or hello@bylandandsea.co