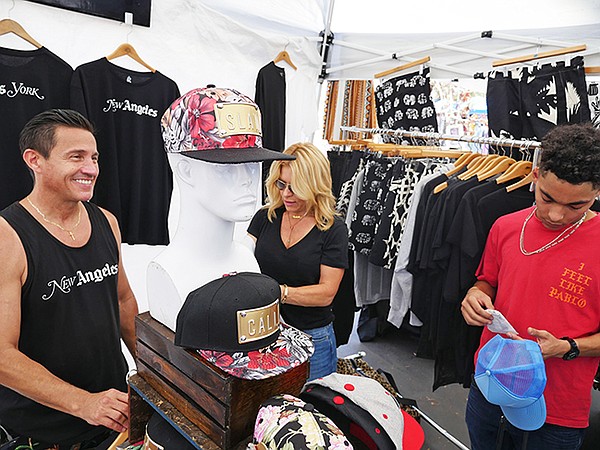 INDEPENDENT DESIGNERS
Independent Designers Fight for Market Space
The Great Recession and its slow recovery generally were blamed for wiping out a generation of independent designers.
But not Freddie Rojas. He is one of the few who survived and is one of Los Angeles' longest active independent designers. Since 1997, he has been taking his inspirations and making them into one-of-a-kind designs as well as limited-edition collections. He's a one-man show. After crafting his designs, he is the one who sells his designs to mom-and-pop businesses and at flea markets.
"It's kind of hard," he concedes. "You have to be ahead of the game. You have to change a lot."
Rojas is not part of a vanishing breed. A new group of independent designers has started business since the recession. The business remains tough, but plenty of entrepreneurs and creative people try their luck at it. Their paths to success can be as different as their designs.
"In terms of 'indie indie' designers, I can't name one who is still cranking it out. But there's Freddie," Alisa Loftin, an entrepreneur among the independent and emerging designers who started in the 1990s, said about Rojas. Her now-defunct Los Angeles store Aero & Co. focused on emerging designers. "The market dropped out of it after 2008. It left a barren landscape for designers, but it became a brave new field." Loftin recently joined a new indie line called Garment.
Post-recession, designers had to embrace new ways of doing business, such as social media, to reach an audience, Loftin said. Rojas survived the recession through luck—several of his retail partners remained in business—and by streamlining his operations. He sold the manufacturing shop where he put together his designs. Freelance workers now help him with his business. He devotes 20 hours each week to consulting with other apparel businesses. Otherwise, he says that he lives and breathes his business, Rojas Clothing.
On most Sundays, you'll find Rojas at the Melrose Trading Post flea market. The focal point of his 10-by-10 stand are displays with his most popular designs: baseball caps bearing license plate–like signs with slogans such as "Los Angeles" and "Trouble."
A steady stream of Los Angeles' grass-roots fashion fans walk into the booth to check out the wares. There is swimwear from the Venice Rani brand by another freelance designer, Tina Rani. On the racks there are Rojas Clothing's T-shirts with slogans such as "New Angeles." Look a little deeper and you'll find more-complex designs such as dresses that sport elements of overalls.
Rojas Clothing is a full collection of casual and avant-garde clothes. Keeping ahead of the trends is of crucial importance, but he keeps the line interesting for himself and shapes the line's identity with his inspiration.
He figures that his brand's longevity relies on something that no one else has: his perspective and creativity. "I do it by gut feeling and trending," he said.
Some might say that Rojas is living a fashion dream—brainstorming designs and crafting clothes on his own terms. But he doesn't want to do it forever. He hopes that a larger company will partner with him.
"I'm waiting for the right merger," he said. Until then, he will do what he always has done—make clothes with a unique appeal.
Any conversation about independent design might wrestle with the question "What is independent design?" For Kuo Yang, owner of Brigade LA, a downtown Los Angeles boutique scheduled to take a bow in the fall in a new location at the LA Live entertainment district, an indie is a designer who only does business with independent boutiques.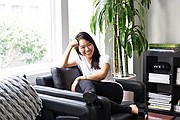 For Eunice Cho, founder of Los Angeles–based fashion line Aella, an independent designer is a business that is not owned by a large parent corporation.
The business of independent design is a highly focused one for the Aella founder. Her fashion inspiration was found when she made a transition between working in art and fashion to attending business school. The change called for a new wardrobe. But a new look literally did not suit Cho.
Like many of her friends, Cho hated office clothes. "I was wearing clothes that were so drab and uncomfortable and conservative," she said. She polled friends on what they would wear if they had everything they wanted in office pants. Some of the most common replies were that her friends wanted office pants that were as comfortable as yoga pants. They also wanted pants that they didn't have to take to the dry cleaners every week. The Aella brand was born.
It formally launched in 2014, starting with sales of bottoms. Cho believes that the bottoms can be mixed in with any business wardrobe. They are made with soft fabrics such as an Italian jersey that had a high spandex content. Initially, it was only offered on the brand's website (aella.co).
She relied on word of mouth and press to call attention to the brand. The inspiration for the brand started with her personal preferences. But if there was not a specific customer for the brand, she probably would not have started it.
"It's really important to know who your customers are—you can't survive without them," she said.
Business has moved quickly for Cho. She started her brand with one employee—herself. Now three people work full-time and three part-time for Aella. The brand maintains permanent shops-in-shop at Bloomingdale's on 59th Street in Manhattan and another one in the Bloomingdale's in the South Coast Plaza retail center in Costa Mesa, Calif.
Does she think she'll work as an independent for the rest of her life? "We'll see where the brand goes," she said.
The bottom line for the independent designer is the boutique. Doing business with the independent is a double-edged sword for the shop owner. They want indie looks to create a point of difference from other stores. But they could get in trouble if the public doesn't embrace the new designs, said Brigade owner Yang.
"Ultimately, we become the liquidator because they are not moving goods," Yang said. Designers and retailers have to work in a milieu of give and take. "In the current clime, as long as emerging designers are willing to mitigate risks—consignment or a SKU swap where they'll take back goods that are not selling—the better it will be for retail. Everyone is looking for a win-win," he said.
A designer can start a brand anywhere in the world, but he or she might have an easier time putting a spotlight on the brand in a city such as Los Angeles. It's one reason why Daniel Patrick moved his self-named brand from Sydney to LA. As tough as business can be, he said, Los Angeles is independent-friendly.
"It's a good place for independent designers. There's a lot of good production houses, space is cheap compared to New York, and people are interested in buying something different. There's a more open-minded group in Los Angeles," he said. "There's a lot of stylists and celebrity here. It's definitely helpful. There's a lot of action."
In April, he opened a Daniel Patrick boutique at 7967 Melrose Ave. in Los Angeles and eventually hopes to open a shop in New York.