MANUFACTURING
Keeping It Local: JS Apparel Has Weathered Foreign Competition and Now Tackles California's Rising Minimum Wage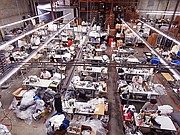 The entry way to JS Apparel is a modest lobby with beige ceramic tiles, a gray love seat and a deep purple rug to add a dash of color. Posters of models wearing T-shirts made by JS Apparel line the wall and the adjoining hallway.
Tiger and Caramel, the two resident office cats, can be seen wandering the halls, peeking out the front door or decamping to the large office occupied by Scott Wilson, the company's vice president of sales. Wilson is a cat person.
JS Apparel, one of the larger clothing manufacturers in the Los Angeles area with $40 million in revenues, has been around since 1995, founded the year after the North American Free Trade Agreement went into effect between the United States, Canada and Mexico. The company has survived an exodus of clothing manufacturing headed south of the border and later to China and other Asian countries.
For years, JS Apparel was known primarily for its knit T-shirts, which currently wholesale for $9 to $15. It was the go-to factory for American Apparel when the T-shirt giant was swamped with orders.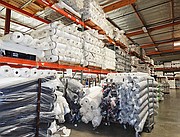 As American Apparel is outsourcing more of its production to LA factories, JS Apparel now is manufacturing hundreds of thousands of T-shirts a month for the label, which emerged from bankruptcy earlier this year. That is on top of its average 350,000 units a month.
But the factory, located in Carson, Calif., south of Los Angeles, has decided it can't survive on T-shirts alone. In recent years, it has ramped up its offerings by doing other kinds of cut-and-sew knits, including men's underwear, women's dresses, leggings and activewear. The company is also branching out to woven garments and making uniforms for companies such as Allegiant Air. Woven wear now makes up 15 percent of production.
Introducing Miss Kerve
JS Apparel is also creating its own label, called Miss Kerve. It is a print-driven line of shirts, skirts, dresses and blouses for the woman who is considered "an in-between," someone who falls between a size 8 and 16. The line will be launched in November and sold to stylists acting as distributors, much like the way Cabi distributes its women's collections.
"We are not relying on any one category," said Wilson, the sales vice president. "We are diversifying, and our strengths are in creativity and innovation."
Staying alive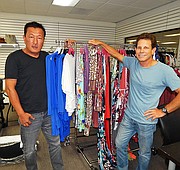 JS Apparel's two owners, John Jung and Scott Kim, were able to weather the flight of manufacturing overseas and later the economic recession in 2008. Now they are getting ready to tackle the next big economic challenge: California's rising minimum wage, scheduled to inch up to $15 an hour by 2022.
The company has ordered a $250,000 automatic cutting machine that will more than double the number of pieces cut in a day with one-fifth of the labor. "That is our weakest link," Wilson said. "One automatic cutting machine can cut 50,000 units a day with two people who are not trained cutters but know the computer system. Right now, we are cutting 20,000 units a day with eight to 10 people."
Wilson said the redundant cutters will be transferred to other departments where more than 100 employees work in the 55,000-square-foot facility. JS Apparel also uses sewing contractors in Garden Grove, Calif., and Anaheim, Calif. Jung is part owner of a dyehouse in Anaheim, Calif., that JS Apparel uses.
The company is a vertical operation. It buys yarn domestically and from overseas and has it knit in downtown Los Angeles or Vernon, Calif. The fabric comes back to the factory and is dyed. JS Apparel has waterless kinetic dyeing and two-sided fabric printing. It also has a graphic arts department for sublimation, silk screen designs and production.
JS Apparel warehouses rolls upon rolls of greige fabric ready to be dyed. "We have $2 million in fabric on the floor at any one time," Wilson said, walking by shelves of fabric stacked to the top of the cinderblock warehouse.
Some of the company's clients include Junk Food, Mollusk, Bloomingdale's, Nordstrom and Fred Segal.
One of its newer clients is Vestige, a recently launched brand of men's T-shirts inspired by the sea and nature sold at Bloomingdale's, Lord & Taylor, Fred Segal and Nordstrom.
Mark DiMarzio, co-owner of Vestige, said the New York–based brand started using JS Apparel at the beginning of 2015 as the label was growing more rapidly than its previous contractors could handle.
"We were kind of in a pinch with our manufacturers," he said, noting he found out about JS Apparel through David Dea, who organizes Factory Direct, a Los Angeles trade show that spotlights local factories and resources. "We needed to find someone we felt could handle all the paths that were happening as we grew. Basically, JS Apparel is a vertical operation where they can do everything from A to Z and keep it on schedule."
Shab Sadeghi started using JS Apparel last year when she launched Shabella, a fashion-forward line of knit basics based in Orange County, Calif. "My product is way more detailed than a basic T-shirt. I have contrast fabric sewn in," she said of her tops and tees, which sell for $75 to $85, and her knit dresses, which go for $175. "They really understand fabric. When I go in with my idea and fabric, they will talk me through it. They will tell me we have to let the fabric settle before we cut it, and, with 10 percent spandex, we have to consider that when making a pattern."
She feels they are a part of her team. "I'm lucky to have found them," she noted.