TRADE SHOWS
Debuts at Capsule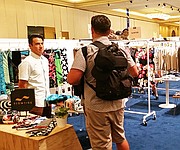 After more than a decade of exhibiting at Pooltradeshow, Freddie Rojas moved to Capsule and made his debut at the high-end show for independent and progressive designers. The show ran at The Venetian ballroom Aug. 15–17 in Las Vegas.
The veteran designer said that he did not miss a step by going to a new show. "They have all my key stores here—Dolls Kill, Nasty Gal," Rojas said. "And I picked up a few new accounts."
The show was marked by more debuts. Brands new to the show included Groceries Apparel, C.P. Company, The Hill-Side, Avanti Designs, Black Rabbit, Haus of JR, Ih nom uh nit and Meesh Collection. Retailers seen shopping at the show included American Rag, Azalea, Barneys Japan, Beams, Bloomingdale's, Holt Renfrew, Mario's, Neiman Marcus, Nordstrom and Revolve.com, said Deirdre Maloney, a partner in the show.
Attendee traffic at the show felt comparable to the February 2016 run of Capsule in Las Vegas, said Tommy Nowels, a cofounder of the Bristol Los Angeles label. The August 2016 Capsule marked the second appearance for Bristol at the show. On Aug. 4, the label produced its first runway show at the Gen Art Fresh Faces show in downtown Los Angeles.
Bristol displayed its Autumn 2016 styles at the show, which just began shipping to stores this week, Nowels said. For its Spring '17 looks, the brand hoped to intrigue buyers with lookbooks, mood boards and fabric swatches, he said. The fabric and mood boards gave buyers opportunities to gain more inspiration on his label's upcoming looks.
Brian Chan, president of the Wolf & Man label, also estimated that the show's attendee traffic was even with February traffic. "We wrote with our regulars," he said. "We met some Canadian retailers. Some big buyers were there, but it seems they were here to make an appearance."
Capsule also produced unique mini-shows during its most recent run. They included Above Tree Line, devoted to technical performance wear; Elements, which featured fragrances and design; Market Square, a cash-and-carry section; and New America, which was described as a show for "progressive American sportswear."
RELATED STORIES