As of Monday, August 29, 2016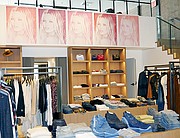 Los Angeles retailer Elyse Walker has a new address.
For 17 years, Walker has operated a boutique in Los Angeles' Pacific Palisades neighborhood, where she sells some of the most exclusive in designer clothes. On Aug. 26, Walker opened her second physical boutique—this one in Newport Beach, Calif.—where the retailer intends to try something new.
The new store will continue its role as a purveyor of designer styles from Givenchy to Gucci, but the store's focus will expand to include into everything that is fashionable in Walker's world. The new Elyse Walker boutique will be a place that represents fine artists. It's also going to be a space to get hair styled.
"We're trying to deliver something experiential to clients that is not a department store," Walker said. "Not only is the client looking for an Elyse Walker point of view, she is looking for a Los Angeles point of view."
Walker refurbished a bank building with the prominent architectural firm Marmol Radziner. Hirsch Construction Corp. served as the general contractor. It's located off of the corner of Newport Boulevard and Via Lido in the upcoming Lido Marina Village boutique retail center. The retail center is scheduled to take a formal bow in late October, according to Linda Berman, chief marketing officer of DJM Capital Partners Inc., the project's developers.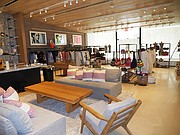 In a nod to the building's past, the bank vault will be transformed into the boutique's jewelry section. The Lido Marina boutique will offer a deeper selection of jewelry than the Pacific Palisades store. It also will feature a bigger footwear section. A focus of the store will be beach lifestyle. It also will devote a store section to 150 designer labels. Paintings by fine artists will line the walls. The shop will feature a few hair-styling stations that can be rented by stylists and colorists.
A key to the shop's design will be flexibility. Everything will be able to be changed around at a moment's notice. "We tried to make all of the spaces flow," Walker said. "We wanted to make all spaces work without walls."
The Lido Marina Village enclave plans to bring a new shopping sensibility to an established section of Newport Beach. Located at the edge of the city's Balboa Peninsula, which claims landmarks such as the 1930s movie house the Lido Theater and the Balboa Fun Zone, the Lido Marina Village has announced a list of contemporary retailers that will open stores in the space such as Planet Blue, Steven Alan, Velvet and Eberjey and restaurants such as Nobu. Jenni Kayne and Bailey44 stores have already opened.
Walker said that she felt comfortable in taking a risk in opening a store in Newport Beach. "There's an appetite for all things Los Angeles here," she said of the Newport shopper. "They make day trips to LA to shop. Newport in many ways is similar to the Palisades. It's a casual lifestyle, but people want to get dressed up and go to dinner."