TRADE SHOWS
Los Angeles Manufacturers Pack WWDMAGIC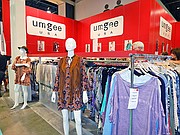 Boho chic was still a much sought-after look at the recent WWDMAGIC show, held Aug. 15–17 at the Las Vegas Convention Center.
The aisles of the cavernous Central Hall were packed with retailers searching for new styles and seeking out embroidered tops and dresses, which are part of the bohemian trend that has pervaded the fashion charts the last few years.
The event took on its usual party vibe with loud music and creativity being front and center. Booth designs included picket fences adorned with fake flowers and furry pink flamingos and a pared-down replica of the Eiffel Tower adorned in bright lights.
Some booths were serving mimosas and cupcakes while others were baking chocolate chip cookies in portable ovens.
Spanish was a common language heard on the convention floor as many retail buyers from Latin America were in town for the show.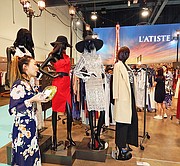 Buyer traffic came in waves, exhibitors said. "The first day was a little bit slow, but the second day, Tuesday, had a stronger pace," said Scott Kim of Los Angeles–based Mur Inc., whose labels are Monoreno, Milla and Mür Mür.
Retailers were being cautious with their dollars and still buying closer to the season. "They are being so picky now, and everyone is holding their money tight because of the elections," said Daniel Park with Carmella, a Los Angeles label that looks to old Hollywood for its inspiration.
At the L'Atiste booth, which had a backdrop of Paris and a lighted Eiffel Tower, Tommy Choi said retailers seemed to be excited about fall. "We heard some of our customers had a tough summer," he said.
Choi's booth was filled with buyers looking through racks of young-contemporary clothing, which included rompers, cute dresses and maxis. Anything with sequins and lace was doing well along with faux-suede styles.
Arthur Kim, vice president of Lulumari in Los Angeles, was seeing some softness in the show. He thought buyer traffic was down and budgets were off. "A big portion of the people who come to our show are from South America and Mexico, making up about 65 percent of our business," he said.
With the strong U.S. dollar, South American buyers were seeing their budgets' buying power whittled down from last year.
At the colorful Loungefly booth—filled with Pokémon backpacks, Hello Kitty totes and Star Wars products—Jason Hoffman said he thought traffic was down at the show. "It seems a little slow. It seems to come in waves," said the director of operations for the company, headquartered in Chatsworth, Calif.
But retailers seemed to have ample budgets to buy the company's licensed gear, which includes everything from purses and wallets to cosmetic carryalls and coin bags.
After a year and a half away, contemporary collections Kersh and Press returned to WWDMAGIC in a smaller booth right at the entrance to the show's Young Contemporary section.
"We came back to see what was happening," said Sandy Dombroski, sales and marketing director of Vancouver-based International Fashions, which produces the two collections.
Typically the two lines show in a 1,200-square-foot booth, but for the recent show, Dombroski took a 10-x-20 booth.
"I'm saying we're 10-x-20 busy," she said. On opening day, Dombroski said, her appointments started at 9 a.m. and kept going long after the official closing time of 6 p.m.
"We were here until 7:30 last night working with one store," she said. "It's mainly been appointments and people we know, although we have had four or five new accounts—including three new Southern California stores. And people are writing full orders; it's not just four or five styles."