TRADE SHOWS
MRket, Stitch and Accessories the Show Bow in New Locations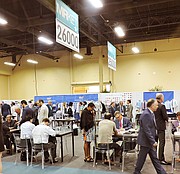 The recent Aug. 15–17 run of MRket, Stitch and Accessories the Show was the first since the three shows were purchased by MAGIC and Project parent UBM and the first in its new Las Vegas location—the Mandalay Bay Convention Center—after almost 10 years at the Sands Expo.
This season, MRket, the upscale menswear trade show, was held on the first floor of the Mandalay Bay Convention Center between the Project and Collective trade shows. Stitch and Accessories the Show were located on the upper level across from Pooltradeshow.
For exhibitors and attendees at Stitch and ATS, the new location was a challenge.
"I thought the whole idea was to let customers shop under one roof," said Peter Jacobson, owner of the Creative Concepts showroom in Los Angeles and FashionLink, a distributor of high-end women's collections. "It's like we're in a different building."
Still, Jacobson said, he met with a mix of existing customers and potential new ones.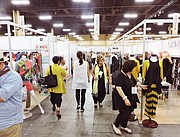 "We've seen customers from literally all over, East to West, Louisiana to Jamaica to Mexico. And then we had our locals," he said, adding that he'd picked up "a few new customers and a few I hadn't seen in a hundred years."
Buyers were on the hunt for new things, Jacobson said.
"They're looking for something different; they need something to excite them," he said.
It was a similar story for Los Angeles–based luxury handbag line Hammitt, which was showing at Accessories the Show.
"It's a little off the beaten path," said sales representative Ryan Kelly. "We definitely had to tell people to go to the second floor."
Kelly said he saw retailers from "all over the country," as well as about eight new customers.
Sarah Kirakossian, with the Arlene Henry Showroom, said the retailers who came to Stitch placed orders.
"We definitely opened some new accounts, but the energy was down," she said.
E Margrit Laman, owner of Limited Additions in Tucson, Ariz., was among the retailers who stopped by the Arlene Henry booth.
"I could spend two days here easily," she said. "I love the vendors, I love the clothes."
Laman's store carries a mix of European collections, Southwestern casual fashions, T-shirts and jeans, shoes, bags, and one-of-a-kind pieces. The retailer typically shops Los Angeles Fashion Market five times a year and the Las Vegas shows twice a year. She also visits the Los Angeles gift show and high-end artisan fairs.
For Ashley Segal, vice president of sales for Los Angeles–based contemporary label Komorov, the second day at Stitch was the strongest.
"Yesterday we had a stellar day," she said, adding that she was getting interest in both Immediate and Spring deliveries.
For Spanish knitwear brand Pure, a division of Barcelona-based Aldo Martin, there are typically only two deliveries, Spring and Fall. But Susan Bonomo, owner of the New York–based showroom Susan Bonomo & Co., said the company has split its deliveries to cater to retailers' needs.
"We're a big country; we have different climates," she said."Florida wants January deliveries, but Boston doesn't want to bring Spring goods in that early. Also, it helps stores to bring in small quantities and turn it quickly and then bring another group in."
Fred and Barbara Fine, owners of B.F. Fine apparel sales and marketing in Palm Desert, Calif., represent Pure on the West Coast, where the collection sells at California boutiques such as Boca in Pacific Palisades, Magnolia in Calabasas andSusan Graf in Palo Alto.
For many at Stitch and Accessories The Show, joining the UBM network of shows represented a culture shock. Under the previous owners, BJI Fashion, exhibitors and retailers enjoyed complimentary meals and shuttles between Stitch and Womenwear in Nevada at the Rio All-Suite Hotel and Casino, where many sales representatives also exhibited lines. One exhibitor said this season the show had lost "that panache that Stitch had."
For many of the exhibitors at MRket, the transition went more smoothly.
Justin Remeny, president of the Los Angeles–based leather outerwear brand Remy, has been a longtime exhibitor at MRket. This edition his booth was located along the main aisle between Project and the Collective.
"I was skeptical at first, being a small fish in a big pond," he said. "But we lucked out [with the location] and that helps."
For Remeny, the show was appointment-driven, but Monday was the strongest of the three days.
"I think people are hesitant to place significant amounts of inventory. But if they see something they like, they pull the trigger," he said. "With luxury goods you can't afford to be too cautious. If they're selling the same as everyone else, it won't stand out. And they know if they don't buy it now, they may not get it. It creates a visceral reaction with the customer."
This season, MRket organizers brought the activewear and athleisure section, Move at MRket, to Las Vegas for the first time.
Among the exhibitors was TASC, a men's and women's activewear line from Metaire, La.
TASC had showed for the first time at MRket in New York and decided to join the lineup in Las Vegas as well, said Cindy Andrews, who handles sales for the company.
The 6-year-old company has developed a proprietary fabric made from a blend of bamboo, organic cotton and Lycra. The fabric has built-in 50+ UV protection, moisture-management and antimicrobial properties. There's also a bamboo/merino wool fabric for base layers and French terry and fleece, as well.
"Ours is a 24/7 product," Andrews said. "We do tennis, fitness, anglers—because of the UV protection, any outdoor sport, hiking and golf."
Showing at MRket led to some good contacts, said Todd Andrews, TASC president and son of Cindy Andrews. "Everyone we saw was a high-quality account," he said.
RELATED STORIES