As of Thursday, August 25, 2016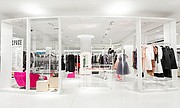 One year ago, Nordstrom launched a new in-store boutique called Space. The idea was to feature emerging and advanced designers and labels such as Simone Rocha, Vetements, Comme des Garçons, Ellery and Undercover.
The concept initially launched in four of Nordstrom's flagship stores. Now it is being expanded to four more locations, including The Grove in Los Angeles. It is already at the San Francisco Centre in San Francisco.
"These cities are known for their amazing fashion, and the people there have such a strong sense of individual style," said Olivia Kim, vice president of creative projects at Nordstrom. "We want to make a statement with our stores in these markets and identify them as destinations for fashion, style, art and culture."
The shop is a standalone boutique within the store's designer department and carries cross-category collections of clothing, shoes, handbags, accessories, home goods and fragrances. It was designed with artistic elements and pops of color to distinguish it from the rest of the retail floor. There are pink mannequins, mixed materials and art objects to accent the area.
Kim worked with the Nordstrom design team to create an environment that feels open and airy to let shoppers float in and out of the boutique.
Other stores getting a new Space are at The Mall at Green Hills in Nashville, Tenn., and two Nordstroms in Toronto at Eaton Centre and Yorkdale Shopping Centre.
Space boutiques are already located in downtown Seattle, downtown Chicago and at the Pacific Centre in Vancouver, Canada.