TRADE SHOWS
Project Womens: Following the Flow of Traffic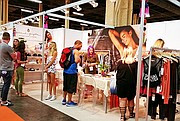 Traffic reports at Project Womens were difficult to read. Some said opening day at the Mandalay Bay Convention Center was sluggish but added that they still worked with major retailers. The show appeared busiest on the second day, but some said the show opened with a bang.
"Day one was really great. By noon I had 40 appointments," said Greg Garrett, cofounder of Irvine, Calif.–based Z Supply, which produces the Black Swan, White Crow, Others Follow and Rag Poets labels. This season, the company launched a new men's line under the Z Supply label.
Richard Ransier was equally enthusiastic about opening day. He was showing the Nux activewear line in Project's Flex section, which features activewear, yoga and athleisure brands.
"It was a great day," he said. "I doubled my business this time with one account. How am I going to top that next time?"
Ransier said in addition to landing orders from traditional activewear accounts he's seeing more business from fashion retailers as well.
"The boutiques recognize that the customer walking into their stores are wearing leggings," he said.
For Mattie Ilel, co-owner of the Los Angeles contemporary label JP & Mattie, the first day included a couple of good orders and visits from existing accounts in Washington State and the Southeast.
Hong Kong–based Blanc Noir runs two booths at Project Womens, one for its lifestyle collection of outerwear and active apparel and another for its BCNI by Blanc Noir line.
"We're more geared for key items," said David Blitz, president of BCNI. "We do business with Nordstrom and Bloomingdale's."
Blitz was showing more active-inspired pieces such as BCNI's bomber jacket made in a knit fabrication.
At the Parksmith booth, the Los Angeles–based denim brand was showing a capsule collection of one-of-a-kind pieces made from wash-tested denim. The capsule collection included two tops—a sleeveless tank and an off-the-shoulder style.
Denis Focil, designer of Torrance, Calif.–based AS by DF and Astars, said she opened new accounts and landed orders from larger retailers at Project Womens. "The important people are here," she said.
"Most of the business has been from the South," she said. "Texas has been good for us."
Focil said she also was also getting more requests for Immediate orders than Spring.
"I usually write the new season," she said.