As of Thursday, August 25, 2016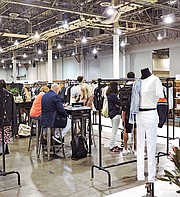 This year's announcements that top retailers such as Nordstrom Inc. and Macy's Inc. would close stores gave the fashion industry little to cheer about, and Ben De Luca went to Liberty Fashion & Lifestyle Fairs feeling nervous for the show's Aug. 15–17 run at the Sands Expo in Las Vegas.
But by the time the trade show's first day was over, he was surprised at the pace of business. "At this show, people were writing orders," De Luca said. He is vice president of the New York–headquartered Brooklyn Hat Co. It was a big difference from the recent past.
"Trade shows this past year and a half have been horrible," he said. "Traffic was low and orders were smaller."
The August 2016 run at Liberty was different. He reported seeing increased traffic from buyers of independent boutiques. They were buying because their inventory was low, he said. His label's sales at Liberty doubled in a year-over-year comparison with last August.
Jason Bates, a veteran Liberty vendor, noted that the pace of attendee traffic was like a typical trade show.
"The first day was great, the second day was medium to low, the third day was crickets," Bates said.
He is chief executive officer of the Derelicte Inc. showroom. He introduced the P.A.C. clothing brand and watch brand Harper & Brooks at the show. He continued to represent his long-term brands such as Farah.
Retailers shopping the show included Nordstrom, Bloomingdale's and Urban Outfitters as well as leading boutiques such as Mario's, with boutiques in Seattle and Portland, Ore. Also seen were Bill Hallman, hailing from Atlanta, and Chrome from Lubbock, Texas. Japanese retailers such as Beams and United Arrows also were said to be in the crowd.
For Adam Ahdoot, partner in the Flagship Agency, the best thing about Liberty was the high caliber of retailer cruising the show. But the pace of business underscored that retail is tough for many.
"Overall, I feel the nature of retail is cautious. There is a lot more reliance on low-risk opportunities," he said. He represented brands SLVDR, Local Supply, Surf Is Dead, Pax, Orchill Supply, Mighty Healthy, M.R.K.T. and K-Way.
Karen Meena, vice president of high-end lifestyle boutique Ron Robinson, thought show traffic seemed lighter than past Liberty shows. "Retail is challenging; the traffic reflected it," she said.
Some trends stood out. More brands displayed performance wear, Meena said. Plaids seemed to be not as dominant as in past years. Instead, stripes seemed to be in style. Short-sleeve shirts seemed to be gaining popularity. There seemed to be more linen-based clothing out there. Button-down silhouettes bearing knit fabric also seemed to be gaining prominence.
Stephanie Seeley, a Liberty partner, said that the show introduced two new sections. One was a pop-up shop built by retailers With Me and Kinfolk. Another was a homewares, furniture and men's grooming shop called Living Room, which was put together by Andrew Livingston of New York–based Knickerbocker MFG Co. It had been previously produced in Liberty's New York shows for two seasons.
There were 450 booths and over 500 brands at the show. The number was estimated to be even with Liberty's February 2016 show. New brands launched at the show included Italian brands David Naman and Patrick Taylor making their Las Vegas debuts.
Other brands making a Liberty debut were Australian brand The Denim Collab, the Brett Johnson Collection, Olivers Apparel and Ascot. Brands returning to the show included Diesel, John Varvatos, Cheap Monday, Zanerobe, Ksubi and Insight.