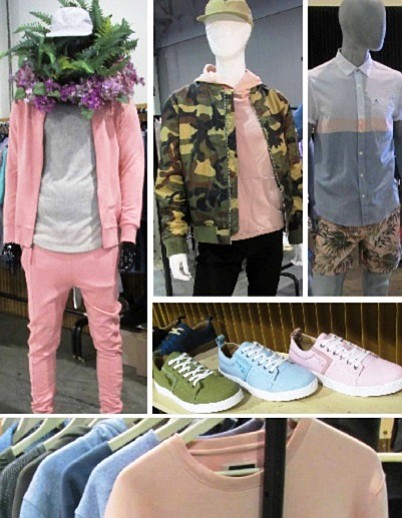 SCOUTING THE SHOW FLOOR
Scouting the Show Floor in Las Vegas
At the recent Las Vegas trade shows, it was clear that menswear continues to evolve for Spring 2017 with a more-relaxed, make-it-your-own aesthetic that continued through from sportswear to the more tailored collections. From Project and MRket to Liberty, Capsule and Agenda, here is an overview of the look for Spring 2017.
Active
The matching track suit was very important and fitted silhouettes continue for Spring. Also key was a mix of wovens with knits, sometimes in the same garment and other times pairing a woven top with a knit bottom or vice versa.
Friends of Denim
Denim has evolved into its own category with its own set of trends. From processed, very intricate wash treatments to dressing-up styles, the choices are endless. There were plenty of complementary "denim-friendly" fabrics to go back with denim.
Calm 'n' Balm
Surfside resorts, lush jungle vacations and Northern California's coast set the mood for this trend. Washed stripes and faded tropical florals were strong
patterns.
The Gentlemen
Moving away from the dandies and over-accessorized suiters of past season, guys continue to dress up but adopt a relaxed fit and construction that takes comfort into account.
Men's Street
Walking the show, I saw different interpretations of the season's trends. Guys seemed comfortable and willing to take more risks in colors, fits and combinations.
Natural High
Taking the American heritage trend to the next level, designers work with soft shades of army green and khaki, add in natural leathers and roping for an organic feel and top it off with a new take on camouflage.
After Brights
This season, designers return to washed-down brights and pastels and pair those shades with natural earth tones. Solids, non-patterned fabrics were key, and contrasting pastels were layered head to toe.