TRADE SHOWS
Sourcing at MAGIC Dominated by China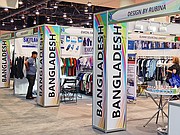 The vast Las Vegas Convention Center looked like the United Nations when the Sourcing at MAGIC show came to town Aug. 14–17.
There were manufacturers from Vietnam, India, China, the United States, Mexico, Peru, Colombia, Guatemala, Nepal, Egypt, Ethiopia, Kenya, Mauritius and beyond.
A sea of 2,000 booths filled the North Hall, which is where the apparel and textile companies were set up, and the South Hall had about 600 booths dedicated to shoe manufacturers.
Sustainability was the show's theme this year with featured participants such as Eileen Fisher, Beyond the Label, Jeanologia and Levi Strauss & Co.
Exhibits of 3-D printing were front and center with seminars showing how you could print small panels that are stitched together to form a dress or make a spiky necklace.
There was even a burst of fashion when the Shenzhen Underwear Association set up a small catwalk where models displayed the latest intimate wear from China.
Vietnam beefed up its pavilion to include 12 manufacturers from that Southeast Asian country, which is the No. 2 clothing supplier to the United States.
Chris Walker of the Thai Son S.P. Sewing Factory in Ho Chi Minh City in Vietnam has been to the Sourcing show five times and believes it is one of the best in the world. "It is the one show that is constant," he said. "We had some Polish ladies come through that we know from the Internet. There was a guy from Mexico. My point is, it is international and the show has a reputation for being a place to come to meet as many manufacturers as you can from around the world."
Walker and his family's three sewing facilities with 700 workers make men's, women's and children's clothing from circular knitted fabrics for mostly mid-size labels. With garment production growing in that country, Thai Son has opened its third facility with 12 sewing lines outside of Ho Chi Minh City. It is capable of growing to 20 sewing lines.
The country with the largest representation at the show was China, which filled more than 80 percent of the booths. The show has been good for manufacturers such as Zhifei Lyu, who said the majority of his business at his woven shirt factory in Yiwu, China, comes from the Sourcing show. "Every show, 40 to 50 people visit my booth," said the representative from Yiwu Tailor Apparel Co. Ltd.
Then as many as four new clients end up using his factory with 300 workers.
Scores of Latin American factories were at the show, trying to take advantage of the various free-trade agreements in place between the United States, Canada and other regions.
Mexico was particularly well represented because of its proximity to the United States and the North American Free Trade Agreement, which has been in place since 1994 among Canada, the United States and Mexico.
Graham Anderton, co-owner of Aztex Trading in Torreón, Mexico, has been coming to the show for six years and sees it as a good place to connect with current customers and potential clients. "We see more of our Mexican customers here than we do in Mexico," he said. "It's a good place to be seen and see what other companies are doing in our community."
With an exchange rate that has the strong U.S. dollar buying more Mexican pesos, exports to the United States, Canada and other countries have been good, Anderton said. Exports now make up 80 percent of Aztex Trading's business.
From Peru came Creditex, a vertical operation that makes woven fabric and manufactures clothing in Lima. The company used to attend the Sourcing show on a regular basis but then gave it a four-year break while it worked on lowering its prices and minimum orders to compete with Asian manufacturers.
The company returned to the show last year to try to increase its U.S. clientele, which now accounts for 60 percent of Creditex's business. South America accounts for the other 40 percent. "We are here looking for customers from the United States and Europe," said Renzo Koch, Creditex's commercial manager.
Having a particularly successful show was MLK Exports from Lucknow, India. MLK Exports makes a lot of hand-embroidered tops and dresses. People were drawn to MLK Exports' corner booth because of the blaze of white clothing that practically glowed under the bright fluorescent lights.
By the third day of the show, brothers Sharad and Shishir Kapoor had orders for 35,000 pieces from their vast selection of cotton dresses, tops and nightgowns made for children and plus sizes. It has been supplying nightgowns for the Soft Surroundings catalog for years. "This nation has given us a lot of appreciation and love," said Shishir Kapoor.