As of Thursday, December 8, 2016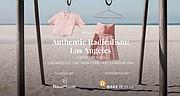 Not Just a Label (NJAL), the international platform for emerging contemporary designers, recently expanded from London to Los Angeles and will host its first LA event since the move.
Titled, "Authentic Radicalism: Redefining LA's Place on the Fashion Axis," the event will feature a panel discussion between "LA's vanguards, radical thinkers and system-shakers."
The Dec. 13 event will be streamed live at www.notjustalabel.com starting at 11 a.m. (Pacific Standard Time). The 360-degree live stream is expected to draw an audience of more than 20,000 across the world, according to NJAL. Viewers will be given a chance to ask questions live via Twitter using the #NJALlive hashtag.
Hosted by the NeueHouse in Hollywood and supported by Make It In LA, the regional initiative spearheaded by Los Angeles Mayor Eric Garcetti, the Dec. 13 event focuses on the fashion industry's creative approaches to shape its future. The event is the first in a series of actions planned by NJAL, which NJAL intends to partner with local brands and organizations on other events such as pop-up shops, concept spaces, lectures and workshops, all in NJAL's effort to "promote Los Angeles as a hub for sustainable manufacturing to its global community of over 24,000 designers."