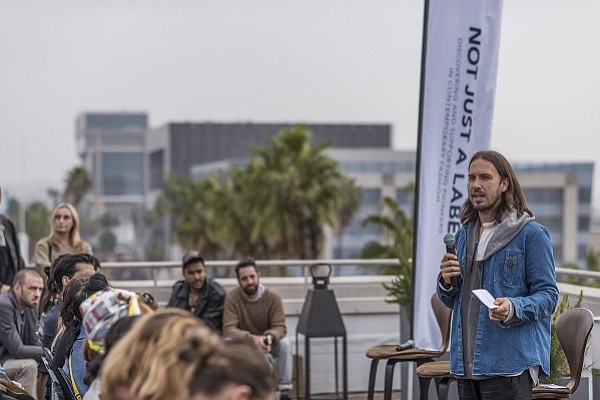 MAKE IT IN LA
Connecting the Dots Between the Creative Community and Made-in-LA Manufacturing at NJAL Event
The future of the apparel industry lies in its connectivity. That's the word from a panel of industry insiders who spoke at a recent event hosted by Not Just A Label, the international platform for emerging designers, which recently put down roots in Los Angeles.
"We have 3,000 companies [in Los Angeles] that identify as manufacturers, [and] 58 percent say they have excess production capacity. That's a huge untapped opportunity," said Krisztina "Z" Holly, the chief instigator for the Make It in LA initiative, a local-manufacturing program launched by LA Mayor Eric Garcetti's office.
Holly kicked off the Dec. 13 event, held on the roof of the NeueHouse in Hollywood. It was organized by Not Just a Label founder Stefan Siegel, who relocated to open the U.S. branch of NJAL, which is headquartered at the NeueHouse. The event was live-streamed on the NJAL website (www.notjustalabel.com).
The NJAL platform currently features nearly 25,000 designers whose designs are distributed in 150 countries around the world, Siegel said. Since launching eight years ago as a resource for emerging labels, the organization has become equally known for its "physical activations," which include helping to launch the Dubai Design District, hosting an emerging designer pop-up shop at the Waldorf Astoria hotel in New York and creating an event to connect international designers with family-owned factories in Italy.
The apparel industry business model has changed, Siegel said.
"The creative community is saying, 'I can do it on my own. I can sit in LA and sell to Japan. I don't have to wait for the buyer to tell me what to create,'" he said.
This represents an opportunity for designers to promote a "regional identity."
"What's missing in fashion today is real value," Siegel said. "Money is being spent on experiences because fashion is no longer an experience. We have to make it more accessible."
This was NJAL's first official event since opening in LA, and several hundred people from across the creative community spectrum turned out.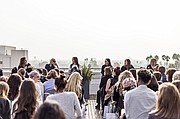 Booth Moore, fashion senior editor for the Hollywood Reporter and former Los Angeles Times fashion critic, moderated the panel, which included Adrienne Lindgren, business development manager for Mayor Eric Garcetti's office and an advisory board member of Garcetti's Make It in LA initiative; Rose Apodaca, fashion writer, author and co-owner of A+R stores in Southern California; Iris Alonso, the former creative director at American Apparel who recently launched her own collection called Everybody; Andrea Lieberman, designer and founder of the A.L.C. label; and Jesse Kamm, designer and founder of the Jesse Kamm collection.
For many on the panel, a key word was sustainability—but not in the eco-friendly sense the word has been used in recent years.
"Sustainable in a different sense of the word. It's not just about carbon emissions. It's about supplying good-paying jobs in the community," Lindgren said. "We have an incredible ecosystem [in Los Angeles]. And we have access to a consumer market that is massive. That gives us an edge to be a sustainable leader."
Moore raised a question about the cost of domestic production, calling it the "elephant in the room."
"There are layers on the costs that go into a garment, taxes on fabric, on import/export," Lieberman said. "You pay 25 percent [duty] on wool that is imported as piece goods as opposed to a finished garment. There's a lot more that needs to be discussed other than the cost of labor."
Lindgren agreed, adding that there are hidden expenses of overseas production, such as the cost of having a staffer stationed overseas, the cost of traveling between production centers and the cost incurred when goods get stuck in customs.
"Labor is one of the most important costs, but many companies look at the total cost of ownership," she said. "People need to be specific when identifying the challenges."
Kamm, who said she has "produced every piece here in LA" since she founded her collection in 2005, said there are other hidden costs associated with manufacturing cheaply offshore.
"If something is cheap, you're just not seeing the cost," she said. "The cost is going into the environment. The higher cost is still being paid in the long run."
Lieberman and Apodaca both stressed the supportive nature of LA's apparel community, in which designers and manufacturers will often share information about manufacturing resources.
Alonso described walking through a building in downtown Los Angeles that was "packed with manufacturers doing everything from dress shirts to uniforms."
Resources like these can't be found on Yelp or through a Google search, she said, and there's no comprehensive directory listing factories in Los Angeles.
"It's up to the designer to get out from behind the computer and walk into these buildings and get to know these people and see it with your own eyes. There shouldn't be such a disconnect between creativity and manufacturing."
Moore asked the group if they anticipate any changes in domestic-manufacturing opportunities with the incoming presidential administration.
"Manufacturing jobs were coming back [to the United States] far before Trump began talking about it," Lindgren said. "We have a robust manufacturing base in the United States; it is important not to undervalue that."
Another topic in the free-ranging discussion was Los Angeles' position among the world's fashion centers.
In his introduction, Siegel said, "We live in a time of decentralization of creative capitals," an idea that reverberated among the panelists.
To Apodaca, Los Angeles has always been a style-setter.
"Whether today or 20 years ago, more people around the world are dressing in sensibilities created in Los Angeles," she said.
In many ways, Los Angeles' creative community operates independently.
"We don't compare ourselves to other perceptions of us. We are who we are," Lieberman said. "I think that is a radical mindset, and that is prevalent in the Los Angeles community."
Southern California's "DIY" culture and its manufacturing resources could contribute to that independent spirit.
"Maybe because LA is so self-sufficient, it doesn't compare itself to others," Lindgren said. "We raise our own minimum wage; we don't wait for others to take care of us."
Still, the group acknowledged some challenges to manufacturing in Los Angeles, including the traffic across the region, which makes getting around town time-consuming; the residential boom in downtown Los Angeles that is forcing factories to move south and east; and the sheer size of Los Angeles, which means Lindgren and her colleagues at City Hall get "a lot of broad feedback."
Nonetheless, the manufacturers on the panel said they were happy and proud to produce in Los Angeles.
"I love making things in LA," Alonso said. "In LA you can wake up with a concept and within 24 hours or 48 hours you can knit, dye, cut, sew, embellish and put it on a website or deliver it to a customer."