IMPORT/EXPORT
Port of Long Beach Approves Swiss-based Shipping Line Taking Over Hanjin Shipping's Terminal Lease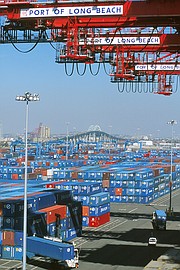 For years, Hanjin Shipping Co. was a major customer at the Port of Long Beach, accounting for 12 percent of the cargo containers that came through the Southern California terminus last year.
When the South Korean shipping company filed for bankruptcy in late August, a big portion of the port's business disappeared.
So it didn't take the Port of Long Beach Harbor Commissioners long to rubber stamp a deal in which Geneva-based Mediterranean Shipping Co. takes over Hanjin's 54 percent and assumes sole control of the long-term lease that Hanjin held at Pier T, where more than a quarter of the port's container cargo is moved. Eventually, Hyundai Merchant Marine will be bringing in ships to the terminal, said Lee Peterson, a port spokesman.
The deal clears the way for Pier T, the largest container terminal at the port, to install two new ship-to-shore cranes that will enable the 381-acre container terminal to unload mega-ships carrying as many as 20,000 containers.
The agreement to lease Pier T is between the Port of Long Beach, the owner of the terminal, and Terminal Investment Limited, an MSC subsidiary.
Board of Harbor Commissioners President Lori Ann Guzmán said that while Hanjin's bankruptcy was unfortunate, the approved agreement is a worthy deal to bring steady business to one of the country's premier container terminals. "This decision comes at a crucial time. With all of the changes that have taken place in the shipping industry in recent years, certainty is very important," she said.
Terminal Investment Limited earlier announced it had signed an agreement to purchase Hanjin Shipping's stake in the terminal operator at Pier T. The South Korean bankruptcy court sought approval from U.S. authorities, including the Port of Long Beach.
In 2002, Total Terminals International, the terminal operating company for Hanjin Shipping, signed a 25-year lease to operate Pier T in Long Beach. In 2012, MSC bought a 46 percent share of the Total Terminals lease at Pier T.
Container volume at the Port of Long Beach has dropped off considerably since Hanjin's bankruptcy. In November, the port saw 534,308 cargo containers pass through its gates, a 13.8 percent decline over the same month last year.
Year to date, container volume is off 5.6 percent, reaching 6.22 million 20-foot containers.
Meanwhile, at the Port of Los Angeles, container volumes in November were up 23.6 percent over last year to 877,564 containers. For the first 11 months of 2016, container traffic increased 7 percent to 8 million containers.