As of Friday, February 5, 2016
Denim's ultra-chic new look will be getting major street cred this Fall. From hip, cropped lengths to '80s-inspired high rises and a fashionable black palette, expect to see denim trending across the globe. While denim continues to draw on its past, it is also being reinvented for today. Think Vêtements Spring '16 collection, '90s supermodels and athleisure as this season's inspirations. Here are the key denim trends of the season.
OH SO '80s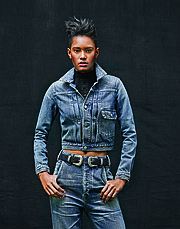 Flashback to acid wash, Z. Cavariccis and '80s cinema for style cues this season. "For Fall 2016, we are moved by the trends from the '80s and '90s," said Catherine Ryu, women's creative director for Citizens of Humanity. "We drew inspiration from classic, vintage, high-waisted fits and beat-up stone washes from the '80s as well as the return of the nonstretch rigid denim." The era is also key forMcGuire Denim. "Torn-off waistbands, bomber silhouettes and the celebratory vibe of the '80s were just a few things we had pinned to our mood board," said Marianne McDonald, McGuire Denim's president and head of design.
ARTISANAL
Photo Gallery
Denim Trends 2016: Artisinal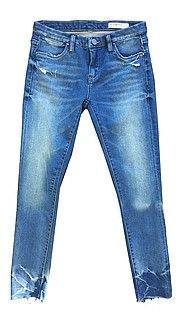 From light bleached effects to bold patchwork, the fine art of denim continues as designers create artisanal and custom designs. "New rip/repair techniques will be important in addition to vintage-inspired washes," said Big Star associate designers Jessica Dunn and Paige Dietrich. "We're also seeing a multitude of hem treatments still going strong, including raw cut, let down, exaggerated cuffs, etc." The Ksubi "KUSTOM" program has been popular, according to Apples Ryan, Ksubi's creative design director. "It's getting great attention because we are noticing a shift of people after customized, embellished styles fitted specifically to their personal tastes and flavors."
BORROWED FROM THE BOYS
Photo Gallery
Denim Trends 2016: Borrowed From The Boys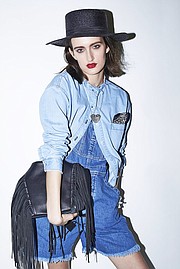 "Dressed-up denim and menswear looks are going to be important to reinvigorate the fashion segment of the category," said Caroline Calvin, cofounder of Calvin Rucker Denim, who continues to instill its signature rebellious chic look into the collection. "It is important that we create fits and finishes that can be worn at various occasions, from day to night from casual to couture," Calvin added.
CROPPED
Photo Gallery
Denim Trends 2016: Cropped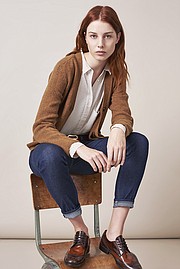 The cropped jean is the breakout silhouette for Fall. "Almost every key style—be it straight, flare or a skinny—is in a crop ankle length [most important]," said Evelyn Ober, creative director for KUT From the Kloth. The look is trending from LA to Sydney. The "Spray On," a skinny cropped fit, is dominating at Ksubi, according to creative design director Apples Ryan. "I've been seeing the cool girls, especially here on the East Coast, continue to wear the cropped skinny but with tights or socks pulled up high. It's a key look we feel strongly about, especially since the last couple of seasons have been so anti-skinny."
HIGH WASTED
Photo Gallery
Denim Trends 2016: High Waisted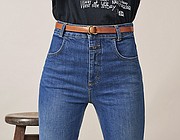 It's all about the high waist for Fall. "Going back to the vintage high-waist, button-fly-front denim classics, reimagined with a youthful twist," is a key trend, said Level 99 designer Amie Gaines. "The 1970s and 1990s continue to be an important reference point," she added. Don't forget the '80s influence with carrot-leg silhouettes, belt-loop and pocket details, and denim in both dark and light washes to complete the retro cool look.
SHADES OF BLACK AND GRAY
Photo Gallery
Denim Trends 2016: Shades Of Black And Gray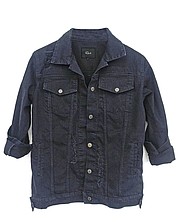 This season's palette of choice is chic in shades of black and gray. "Denim washes range from well-worn vintage shades to clean dark with a returned focus on black reminiscent of the '80s and '90s eras," said Catherine Ryu, women's creative director for Citizens of Humanity. From shredded skinnies to leather finishes and stone washes, look for denim ranging from shades of gray to saturated black to make a statement.
THE SKINNY
Photo Gallery
Denim Trends 2016: The Skinny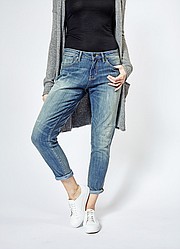 No longer just a trend, the skinny is a staple in every girl's closet. "The skinny, no matter what anyone says ... still outsells any jean two to one!" said Mike Clegern, marketing director for Moussy. However, Clegern points out that the trend is leaning more toward a relaxed skinny silhouette. "The legging may not be dead yet, but it should be. The real denim enthusiasts are wearing a more rigid jean these days," Clegern noted.
VINTAGE INSPIRED
Photo Gallery
Denim Trends 2016: Vintage Inspired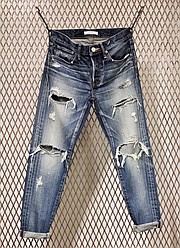 "The key trend for women's denim in Fall 2016 continues to be lived-in, vintage-inspired denim," said Rails founder Jeff Abrams. "Relaxed, effortless silhouettes are replacing skinnies as the new key fit," he added. Distressed treatments, stretch fabrics and vintage washes are key for the look. According to Level 99 designer Amie Gaines, clean, medium-to-dark vintage washes are trending, some with more aggressive destruction for tried-and-true boyfriend fits. Overdyed denim in some dark washes is also key, she said.
WEEKENDERS
Photo Gallery
Denim Trends 2016: Weekenders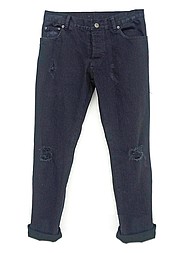 Designers are updating relaxed styles such as the boyfriend jean with new fits that are both stylish and easy to wear. "The growing need for comfort has brought about looser-fitting silhouettes," said Jimmy Taverniti, creative director for Siwy. New denim fabrications such as rayon/Tencel are being introduced in response to the growing influence of the athleisure trend. According to Clarissa Gallaccio, communications coordinator forDish and Duer, "Styles such as relaxed skinnies, straight and narrows, and weekenders will be prominent additions to the Fall wardrobe, allowing for a wider variety and more diversity."
WITH FLARE
Photo Gallery
Denim Trends 2016: With Flare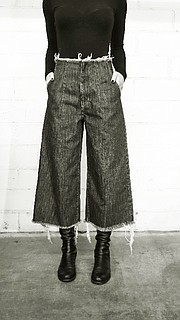 "The fashion and culture of the 1970s is still a strong source of denim inspiration even going into Fall 2016," according to Jessica Dunn and Paige Dietrich, Big Star associate designers. Envision high waists, flared silhouettes and vintage-inspired washes. "In terms of direction, it's important to look back to fashion's history [1970s, etc.] to be able to plan for the future," explained the design duo. "Many of our inspirations are drawn from the heyday of California surf culture and then incorporate that into fresh new concepts for the modern consumer."