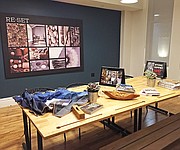 To celebrate the opening of its new showroom in downtown Los Angeles, Turkish denim mill Bossa hosted a grand opening party and denim trend presentation on Jan. 15.
Bossa's new showroom is located in the Fine Arts Building at 811 W. Seventh St. The second-floor space overlooks the historic building's gold art deco lobby. Built in 1972, the Fine Arts Building was declared a historic cultural monument in 1974. The building also houses a shared We Work office space, where Bossa hosted the party and trend presentation.
Katy Rutherford and Sue Barrett of London-based Denim Forum led the group on an overview of denim's future by looking at key styles, brands and "denim tribes."
"We picked five key style tribes and looked at what engages them and their 'lifescape,'" Rutherford said.
There's an elevated surf/skate look that represents "festival looks and anarchic youth," Barrett said.
"Festivals are the new holiday replacing the beach holiday," she said. "The festival wardrobe is thrift-inspired or designed to wear with thrift."
Key looks included a return to the orange peel hand and stonewashing. Denim is sliced, patched and reworked.
Influencers include Natalie Westling, model, skater and "iconic trailblazer," as well as e-commerce brand ASOS, which has "free worldwide shipping that no one else can compete with," Barrett said. Brands to watch include Re/Done and R13.
"Everyone is trying to achieve an authentic, worn-in, real rock 'n' roll stone wash, orange peel, plush, sueded and velvet luxe touch and retro-pile aspect," Rutherford said.
Remade denim is also one of the "fastest-growing statements," Rutherford said, adding, "Vetements denim is probably the most photographed denim. It's really key for updating denim."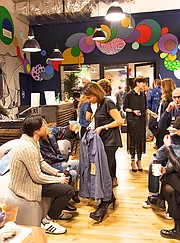 The look works for men's and women's.
"There's something comforting and familiar about these items," Barrett said. For men, it can be "taking current items and adding something effortless, like a raw edge. For women's, it's more of a subtle deconstructed look for everyday anarchic appeal."
Patchwork details show "no sign of going away," she said.
For women, the '90s-inspired flare silhouette is updated with a "trashed hem" or a twisted seam.
Another tribe is more dark and rebellious, inspired by a subversive, anti-establishment subculture.
Influencers for this "new generation of politically motivated youth" include "Hunger Games" actress Amandla Stenberg and Russian streetwear artist Gosha Rubchinskiy, who recently collaborated on a video with Vans.
This is a continuation of the biker look, with grunge details and an emphasis on skinny silhouettes.
"We get asked every time, 'Is it still a black skinny?' Yes, it is," Rutherford said.
Brands to watch include All Saints, Vetements and Cav Empt.
Details include a wide variation of surface textures, ombré treatments and "threadbare double weaves."
"It's very much a luxe, warm aesthetic," Barrett said.
There are acid-wash finishes created using lasers, and "inky coatings are inspired by biker looks."
For men, the look is '90s-inspired, with long shirts and slim silhouettes. For women, the look is "elevated grunge, with raw-edge details and boyish layering pieces."
A third tribe is what Rutherford and Barrett call "Vintage Curators."
"It's not about head-to-toe vintage," Barrett said. "It's about focusing on one key statement piece."
Influencers include Darned and Dusted in London, Radical Vintage in Japan and Passenger Vintage in LA.
There are vintage military details, patchworking, hand stitching and repair. Finishes are "dirt-stained" for a "Dust Bowl look."
The fourth tribe, called "Makers," is focused on sustainability.
"Smaller startups are more nimble," Barrett said. "This trend celebrates traditional craftspeople."
There's an interest in the craft of weaving. "Weaving has become a cool pastime," she said. "It was knitting, and now it's weaving."
At retail, this trend celebrates the outdoors by bringing the outdoors into the retail environment, Rutherford said, pointing to GarbStore in London and Green Fingers Market in New York.
Nudie Jeans has repair shops—"The idea of let's repair it instead of buying more," Rutherford said—and H&M and Patagonia encourage customers to recycle old garments.
The final trend was "Luxe Athletics," which is inspired by athletic styles.
"The overarching influence of sportswear shows no sign of slowing down," Barrett said.
The trend encompasses the desire for comfort-inspired pieces as well as a rise in unisex style.
"Tomboy has really been the tipping point," Barrett said.
Key influencers include H&M's sister chain And Other Stories.
Details include satin wash looks, metallic coatings, mercerized attributes, paper touch finishes, tech gabardines and monochromatic knits.
"This story is all about refined basics," Barrett said.
Rutherford and Barrett recently launched "Worn," a new publication produced with The Vintage Showroom in London that explores the intersection between vintage denim and global street style.
For more information about Bossa, visit www.bossa.com.tr. To reach Bossa's Los Angeles showroom, contact Murat Ozyagmurlu at (213) 800-3903.