RETAIL
E-Commerce Showing More Interest in Bricks-and-Mortar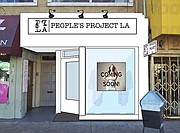 For 18 months, People's Project LA has been selling its sweaters, dresses, dusters, rompers and everything fashionable through its website.
But Patty Park, the website's founder and the daughter of Korean immigrants who worked in the garment industry, is venturing into the offline world by opening a bricks-and-mortar store soon in the Los Angeles neighborhood of Studio City. Her 1,300-square-foot outpost at 12206 Ventura Blvd. opens Feb. 27. "Bricks-and-mortar is still a great business," Park said. "[With a physical store] my online business will grow and I'll get more exposure."
People's Project LA is the latest e-tailer to put down roots in the traditional retail world. It is a trend that is taking hold of tech-centric retailers now reconsidering whether a foray into the realm of storefronts might be the extra boost needed to build a brand and boost sales.
Earlier this month, Amazon.com, America's biggest e-commerce company, was reported to be opening a fleet of bricks-and-mortar book stores—the first of its kind since the company was founded 21 years ago in Seattle. Off-price e-tailer Gilt recently announced it will be opening its first physical store in a shop-in-shop inside a Saks OFF 5th on 57th Street in Manhattan.
Recently, Los Angeles–based e-retailer Nasty Gal, which started selling goods online in 2006, opened two bricks-and-mortar boutiques in the Los Angeles area—a mid-size store on Melrose Avenue and a huge, bright-white emporium on the Third Street Promenade in Santa Monica.
Other e-commerce retailers that have taken a second look at physical stores are Fabletics, Bonobos, Rent the Runway and Warby Parker.
This trend of e-tailers expanding into bricks-and-mortar stores seem to fly against conventional business wisdom given the strength of buying online. E-commerce delivered the strongest performance during the tough, winter holiday retail season.
Cyber Monday, considered the official start of holiday e-commerce shopping, was named last year as the "heaviest spending day of the year," by comScore, a Reston, Va., analytics company. Some $2.28 billion was spent by consumers shopping on desktop computers on Nov. 30, 2015, which was 14 percent more than the $2 billion spent in 2014.
Business at traditional bricks-and mortar outposts declined during the same period. ShopperTrak, an analytics company that measures shopping-center traffic, said that business decreased 10.4 percent during the Black Friday weekend in 2015 compared with the same weekend the previous year.
Even though bricks-and-mortar retail reported a tough winter, online retailers are finding that boutiques can create value, especially in forums difficult to broach online.
Fabletics, which started out a few years ago as e-commerce only, opened its first store last September by debuting a more than 1,700-square-foot boutique at The Village at Westfield Topanga retail center in Los Angeles' Woodland Hills area.
Since then it has rolled out five more boutiques with plans to roll out a store at the Mall of America in Bloomington, Minn., said Gregg Throgmartin, Fabletics' president of retail.
The Fabletics shops are more than eye candy. Shoppers can visit the physical boutiques, try on clothes and then order them online. Or consumers can peruse Fabletics gear online and purchase items at the stores.
"If you see Fabletics on Facebook and Pinterest, and then you see our TV commercial, your level of confidence in the brand increases. Then, if you see it at The Village at Westfield Topanga, the halo adds legitimacy to the brand. Shoppers are excited that they see the shop at the mall," Throgmartin said.
In August, Buck Mason, an online fashion label, opened a physical boutique at 1638 Abbot Kinney Blvd. in the Venice neighborhood of Los Angeles. Sasha Koehn, a brand cofounder, said that the 650-square-foot store was profitable from its opening.
Buck Mason's experiment into bricks-and-mortar has been successful enough that Koehn and Erik Schnakenberg, the other cofounder, will be scouting retail spots for a second boutique this year.
While the great majority of Buck Mason's business—90 percent—will continue to be in e-commerce, Schnakenberg said the physical store offers consumers another avenue to discover the brand. It gives people a chance to experience Buck Mason in a live-store environment. It also builds exposure for the brand on a high-profile retail street, he said.
"If you can make retail into a profitable billboard, you know that you are doing something right," Schnakenberg said.
Mike Rielly, an executive vice president at real estate consultants and brokers Townsend & Associates Inc., said he noticed e-commerce retailers have shown an increased interest in bricks-and-mortar during the past four years.
"E-tail brands like Bonobos, Fabletics and Nasty Gal have a directed interest in opening bricks-and-mortar [stores] for multiple strategic reasons, not the least of which are physical brand projection … visual merchandising and diversification of revenue streams," he said.
Setting up a space for tourists and people who do not know the brand is also an important reason to open a bricks-and-mortar store, he said.
High-profile e-tailers experimenting with bricks-and-mortar stores will not be a fad, said Mercedes Gonzalez, director of retail consulting firm Global Purchasing Companies.
Fashion shoppers will always want to try on clothes before making a purchase. It is an activity best served at bricks-and-mortar stores, she noted. Physical stores will remain a constant even in a market where everything from buying habits to advertising seems to be changing.
Park, the founder of People's Project LA, said she intends to open more boutiques if her Studio City shop is successful. However, she advises e-commerce retailers not to jump into physical retail. "It's a great way to brand your company. It's a great way to get exposure," she said. But she warns that a brand should only open a store if it has enough product to fill a boutique.