As of Wednesday, March 29, 2017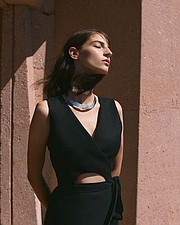 Staud clothing is a customizable luxury line that takes women virtually to the design table.
Launched in 2015 by designer and founder Sarah Staudinger and Co–Creative Director George Augusto, the Los Angeles brand debuted initially as an e-commerce site that gives shoppers options to personalize pieces from color and trimmings to hemlines and hardware.
With an impressive turnaround, Staudinger works with a factory in downtown Los Angeles close to its headquarters to keep the production lead time down.
As the former fashion director of Reformation, Staudinger positions the brand with an eco-friendly, reductive approach, minimizing waste by using dead stock fabrics for the garments. The customized production process also minimizes the amount of fabric typically used.
This direct-to-consumer model was conceived while Staudinger was in college studying fashion and media at The New School in New York. The Los Angeles–born designer waited to turn her idea into an actual business until she found an efficient platform.
"At the time, Sarah was frustrated that she couldn't find something online that fit and flattered her body and still expressed her personal style," Augusto said. "But technology wasn't where it is today, and people thought that she was absolutely insane for wanting to start this. There was no Pinterest or Instagram—even e-commerce in general wasn't as popular—so she put it on the back burner, until now."
The Fall collection debuted with 13 foundational silhouettes, including adjustable wide-legged and flared jumpsuits; casual tunics and detailed, tailored tops; flared culottes and demure dresses with edgy cut-outs.
Staud simplifies the online experience with 66 options that offer varied preset hems, sleeve lengths, add-ons such as belts to flatter the waist, prints and fabrics.
"This will hopefully allow the customer to purchase a garment that works more precisely for her body type or that's more appropriate for her specific event/occasion," Augusto said. With customers able to personalize each piece, which is shown in different variations on the site, it allows consumers to get involved in the creative decision-making process and connect to the confection of choice.
Retail prices range from $75 for a top to $295 for a trench coat. The collections are effortlessly chic and stylish yet clean, minimal and classic. The Fall collection nods to the 1970s but also pays homage to the iconic artists and creatives of the '50s, '60s and '70s.
"There is definitely a lot of '70s influence in our hardware and fabrics, but then you'll see those same pieces will have a '50s pant leg or a '60s collar shape," Augusto said.
The "Uschi" culotte, named after '60s model and actress Uschi Obermaier, features a flared hem with an option of adding bottom fringe. There's also the "Linus" cotton knit tee with a wide mock neck and contrasting neck and sleeves and the "Senna" wrap top, which has a long tie closure allowing for adjustability of both waist and length. The high-waisted corduroy "Joni" pant has a slight flare at the hem with an exposed nickel front zipper with a circular eyelet pull.
The "Asawa" dress, which features a two-way zipper for an adjustable slit length and collar zips from a standard to a turtleneck, was named after wire sculptor Ruth Asawa. There's also the "Judd" jumper, which is named after minimalist artist Donald Judd, and the high-waisted "Sontag" skirt is named after writer Susan Sontag.
"We also had the pleasure of collaborating with Ana Kras. She created an amazing print that is worked into the designs, and we love the result," Augusto said. The geometric print can be seen on the "Strada" dress, which is available in a maxi or mini style. A standout garment includes the structured "Brontë" layering piece, which features open sides with panel-closure details that can be paired with a dress, jumper, pants or top.
There are also accessories. The Resort collection includes the "Kirk" block-heeled sandal and handbags. Resort fashion includes streamlined silhouettes, solid-colored palettes and prints offered in lightweight fabrications such as chambray and linen.
For more information, contact emilia@staud.clothing.